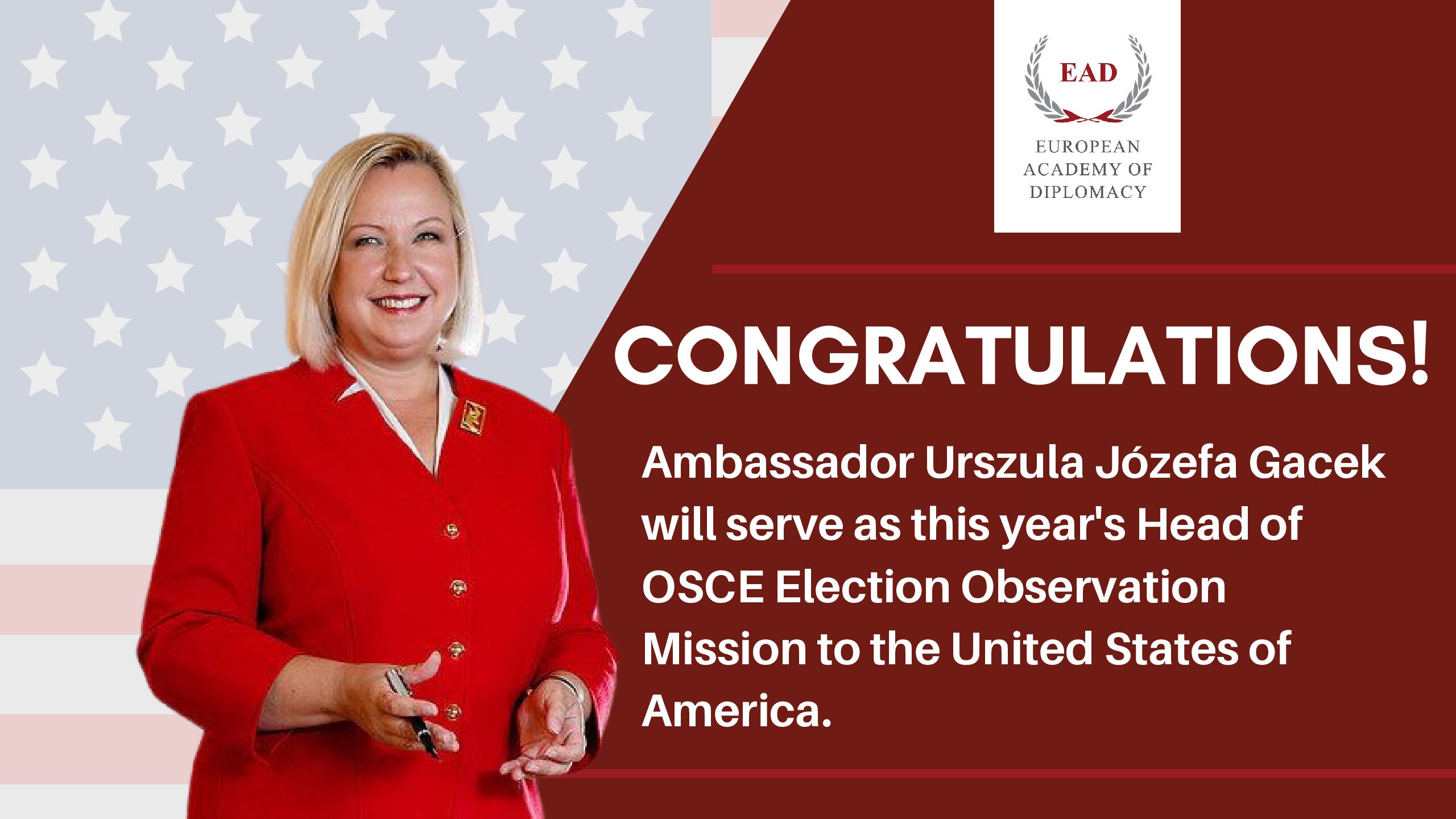 Amb. Urszula Gacek and the Head of the OSCE election Observation Mission to the United States
We are delighted to inform that the Head of the OSCE (Organization for Security and Co-operation in Europe) election Observation Mission to the USA is Mrs. Ambassador Urszula Gacek. This is the first time that a woman will take such roll in the mentioned elections. Mrs. Ambassador is one of the members of the Council of Ambassadors of the European Academy of Diplomacy. She is delivering different lectures, workshops and talks with EAD students. We would like to extend our deepest congratulations to her in such an important role! 
Ambassador Urszula Gacek was born and educated in the United Kingdom, graduate of the University of Oxford, since 1991 lives in Poland. Amb. Gacek has over 30 years of professional experience as business analyst, joint stock company CEO, member of Polish and European Parliament, and high ranking diplomat at the Polish Ministry of Foreign Affairs – she served as the Permanent Representative of the Republic of Poland to the Council of Europe and Consul General at the Consulate General of the Republic of Poland in New York City. Member of the Council of Institute for Strategic Studies in Cracow.
On the 29th of September 2020, the OSCE Office for Democratic Institutions and Human Rights opened an election observation mission for the United States' general elections to take place on 3rd November 2020. The aim of the mission is to assess how in line with International Obligations the elections are held, as well as the corresponding democratic standards including the commitments agreed to by all Organization for Security and Co-operation in Europe countries and with national legislations. 
We invite you to access and read the following article published by the OSCE where you would be able to find more detailed information on the objectives and fundaments of such an important mission as well as the cooperative efforts in regards to the upcoming elections in the United States of America.