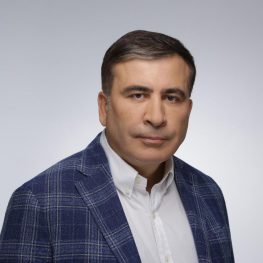 President Mikheil Saakashvili
President of Georgia (2004 - 2013), Governor of Odessa (2015 - 2016)
Mikheil Saakashvili is a Georgian and Ukrainian politician. Involved in Georgian politics since 1995, he became president in January 2004 after President Eduard Shevardnadze resigned in the November 2003 bloodless "Rose Revolution" led by Saakashvili and his political allies, Nino Burjanadze and Zurab Zhvania. He was re-elected in the Georgian presidential election on 5 January 2008. He was widely regarded as a pro-NATO and pro-West leader who spearheaded a series of political and economic reforms.
On 2 October 2012, Saakashvili admitted his party's defeat in Georgia's parliamentary election against the Georgian Dream coalition led by the tycoon Bidzina Ivanishvili. He was barred by the constitution of Georgia from seeking a third term in the 2013 presidential election, which was won by the Georgian Dream's candidate Giorgi Margvelashvili. Shortly after the election, Saakashvili left Georgia.
Saakashvili energetically supported Ukraine's Euromaidan movement and the 2014 Ukrainian revolution. On 30 May 2015 Ukrainian President Petro Poroshenko appointed Saakashvili Governor of Odessa Oblast. He was also granted Ukrainian citizenship. On 7 November 2016 Saakashvili resigned as Governor while blaming President Poroshenko personally for enabling corruption in Odessa and in Ukraine overall. Four days later he announced his goal to create a new political party called Movement of New Forces.