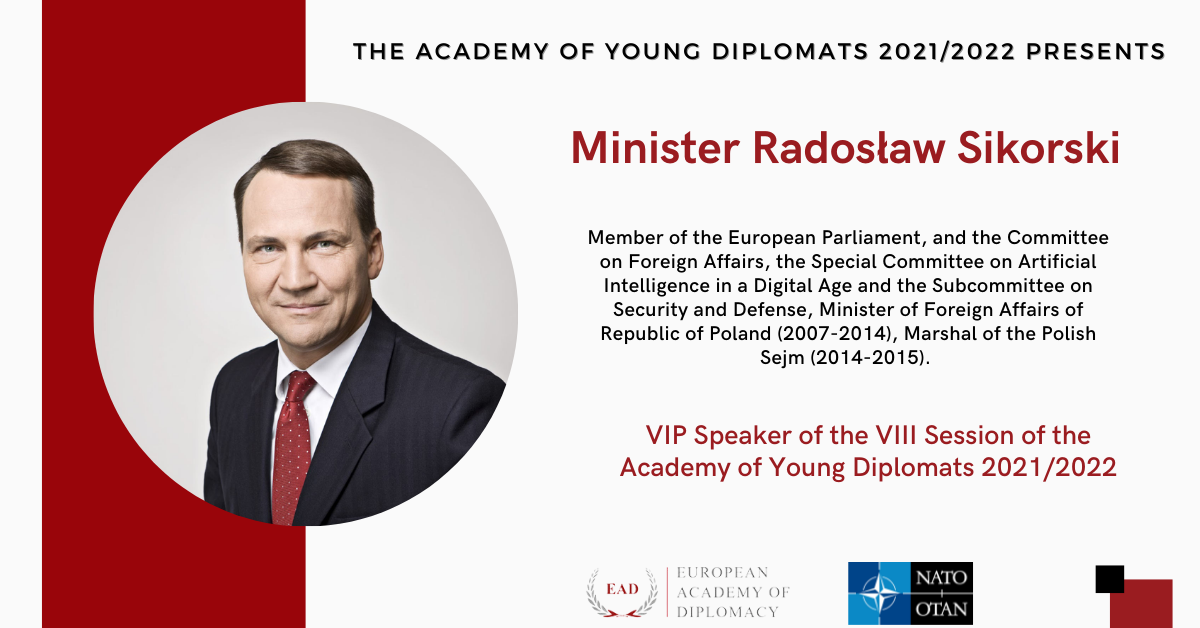 Special Guest – MEP Radosław Sikorski at the Academy of Young Diplomats 2021/2022
The European Academy of Diplomacy (EAD) is thrilled to announce MEP Radosław Sikorski as a Special Guest for the VIII Session of the 2021/2022 edition of the Academy of Young Diplomats (AYD), co-organized with NATO, who will be delivering a Leadership Lecture titled: "The Future of European Security Architecture."
Radosław Sikorski is a graduate of the University of Oxford. After the fall of Communism in Poland, he occupied important functions in different governments before serving as Minister of National Defence between 2005 and 2007 and Minister of Foreign Affairs between 2007 and 2014. During his terms as Minister, Mr. Sikorski played an important role in the shaping of Poland's foreign policy as a Member State of the European Union (EU). For instance, Minister Sikorski pursued a new strategy in Polish-Russian relations and he promoted closer cooperation between EU Member States. As part of this effort, Minister Sikorski also fostered Franco-German-Polish cooperation within the framework of the Weimar Triangle. Between 2014 and 2015, Radosław Sikorski also served as Marshal of the Sejm. In 2019, he was elected a Member of the European Parliament where he is part of the European People's Party group. MEP Sikorski currently serves as the Chair of the Delegation for relations with the United States (D-US). 
Besides his role in Polish, European, and international politics, Radosław Sikorski has worked as a journalist and war correspondent for multiple newspapers and magazines such as The Spectator and The Observer. MEP Sikorski is also a Senior Fellow at the Center for European Studies at Harvard University and he takes an active role in debates about the shaping of European defence and security architecture. 
MEP Sikorski's insights and expertise on European defense and security policies are an important contribution to the VIII Session of the 2021/2022 edition of the Academy of Young Diplomats.
This event is going to be streamed on our Facebook page through the following link: CLICK HERE 
#AYD #FutureLeaders #VIPGuest #NATOsession