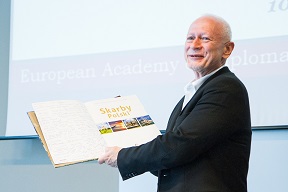 10th edition of the Academy of Young Diplomats
The European Academy of Diplomacy is happy to announce the completion of the 10th edition of the Academy of Young Diplomats and welcome a new group of alumni to the EAD family. Over 8 sessions, 200 participants of the Academy of Young Diplomats met with distinguished international leaders, developed soft skills and focused on one of three specializations: Polish Foreign Service, EU Diplomacy or International Organizations. Our exceptional students came from all over Poland, have diverse international backgrounds and share a strong desire to be future leaders and contribute to Polish and European society by taking a more active role and responsibility.
The 10th edition of AYD kicked off with the inauguration ceremony that featured President Vaira Vike-Freiberga being presented with the Casimir Pulaski Foundation's Knight of Freedom award. President Vike-Freiberga, along with the first woman Vice President of Iran – Masoumeh Ebtekar and Secretary General of the Community of Democracies – Ambassador Maria Leissner, addressed the students of AYD on the challenges of leadership and the role of women in international relations. Over the next 8 sessions, students met with former Prime Minister Hanna Suchocka, Minister Stanisław Koziej, Professor Grzegorz Kołodko, Undersecretary of State Katarzyna Kacperczyk, Minister Michał Boni and Ms. Beatriz Balbin, Deputy Director ODIHR.
In addition to meetings with VIP speakers, participants of the Academy of Young Diplomats underwent masterclass soft skill trainings – negotiations, diplomatic protocol and correspondence, policy paper preparation, savoir-vivre, leadership, energy security, social media, national branding, public speaking, and working with the media. These trainings constituted an integral element of each AYD session, giving all our students the opportunity to develop and refine skills necessary for competing on the international job market.
One characteristic of each edition of the Academy of Young Diplomats is the external integration session, which is held in a different city in Poland each year. This years' session was hosted and organized by the Polish Naval Academy in Gdynia and focused on "Naval Ambassadors III: Poland. Europe. Global Security". The three-day program commenced with an integration and ice-breaking event before opening addresses by the Naval Academy Commandant Admiral Czesław Dyrcz and EAD Executive Director Jason Worlledge. Ambassador Karsten Klepsvik gave the key note speech on cooperation in the Arctic region before moving on to main program, which covered: German & Polish Security Roles in the Baltic Sea Region, Modernization of Polish Naval Forces, Protocol on the High Seas, Geopolitics in the High North.
The Academy of Young Diplomats is a year-long diplomatic training program in Poland that prepares students and young graduates for work in the Polish foreign service, Polish civil service, European institutions and international organizations.
To find out more about the Academy of Young Diplomats and to apply for the 11th edition, please visit our website or contact AYD program coordinator Ms. Joanna Jasińska (jjasinska@diplomats.pl).