About Academy of Young Diplomats
The Academy of Young Diplomats (AYD) is a top-tier postgraduate diplomatic Program, which empowers a new generation of global leaders, through an innovative year-long training experience, ending with an

Executive Diploma in the Art of Diplomacy

(EDAD).
Established in 2004, the AYD prepares future diplomats, civil servants and social entrepreneurs for international careers. The Program is known for its world-class faculty, practitioners-oriented approach and a network of more than 3000 graduates from over 60 countries. It is also accredited with the Ministry of Education of Poland.
A selected cohort of approximately 100 promising talents from around the world will take part in over 140 hours of stationary lectures, workshops, practical exercises, study-visits and personal leadership development groups. In the academic year 2020/2021 the program will be enriched by

online modules

connecting the groups with world leaders from all around the world.
Program Structure & Highlights
Specializations – click to discover the classes
The AYD specializations are designed to accommodate the various interests of our participants. The aim of these tailored workshops is to prepare our participants for the career path they chose.
Przewodniczący Rady Ambasadorów, Ambasador w Pakistanie (1984 - 1989), Belgii & Luksemburgu (1998 - 2002) & Izraelu (2003 - 2006)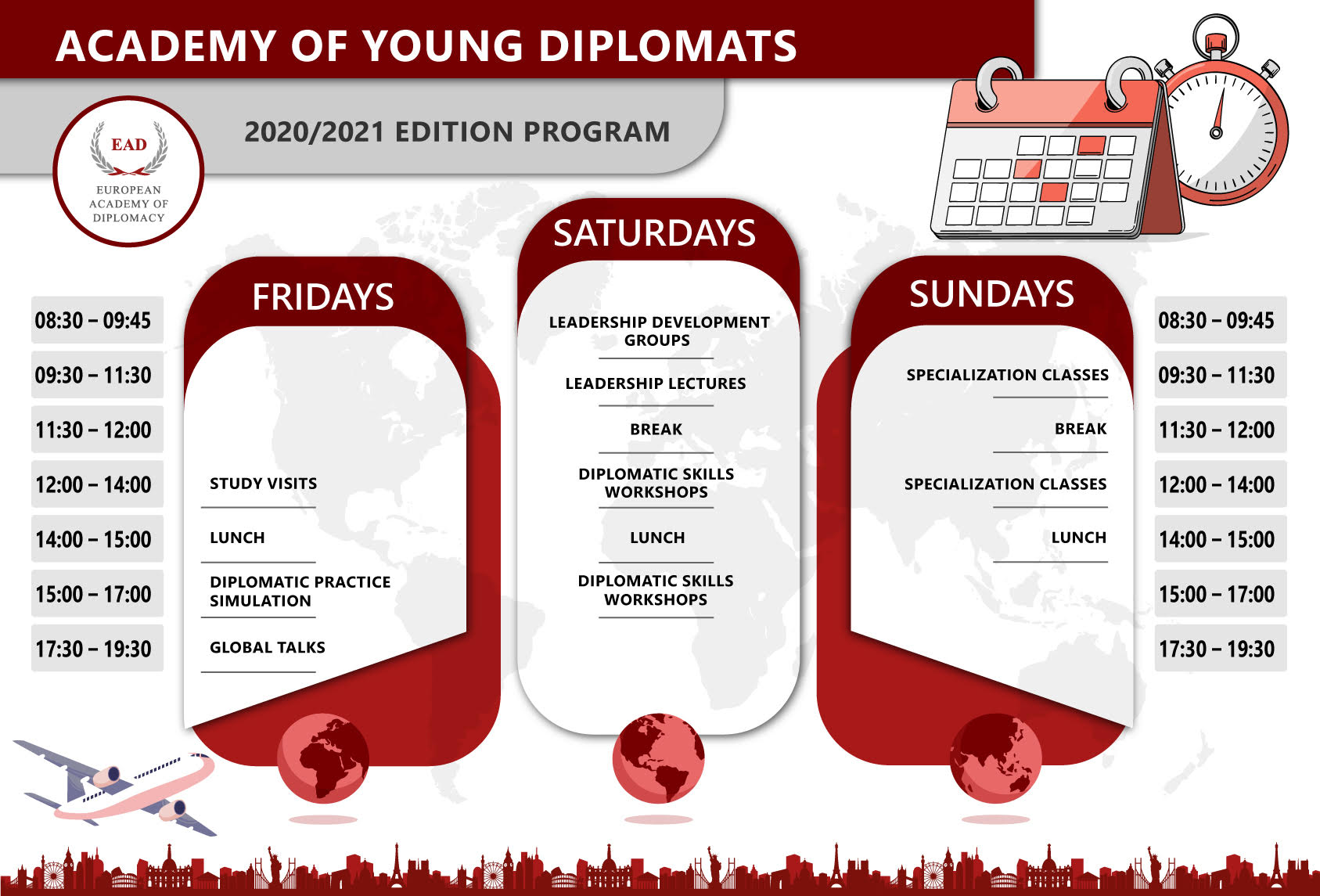 »
Study Visits – meetings with diplomats, public servants and government officials combined with a tour of the institution they work in.
»
Global Talks – a series of lectures which cover current themes in the international arena.
»
Diplomatic Practice Simulations – scenario based practical simulations, case study group games.
»
Leadership Lectures – Ted-X presentations, followed by Q&A sessions with inspiring global leaders in diplomacy, politics, business and the non-for-profit sector.
»
Diplomatic Skills Workshops – offered to all three specializations, the workshops help grow the necessary skills necessary to successfully pursue international careers in chosen fields.
»
Specialization Classes – tailor-made to each of the three specializations, the classes offer a practitioner's view of the most important issues in the field of international organizations, international security, and foreign policy.
»
Leadership Development Groups – meetings in small groups (5-6 peers), with monthly assignments. The LDGs help build self-awareness and a sense of purpose – both necessary to develop true leadership potential.
»
Negotiation Skills and Techniques
»

Public Speaking and Presentation Skills
»

Leadership Skills
» 

In the academic year 2020/2021, the Warsaw and Krakow sessions are complemented by monthly, afternoon online discussions with world-class leaders, which AYD participants can join regardless of where they are.