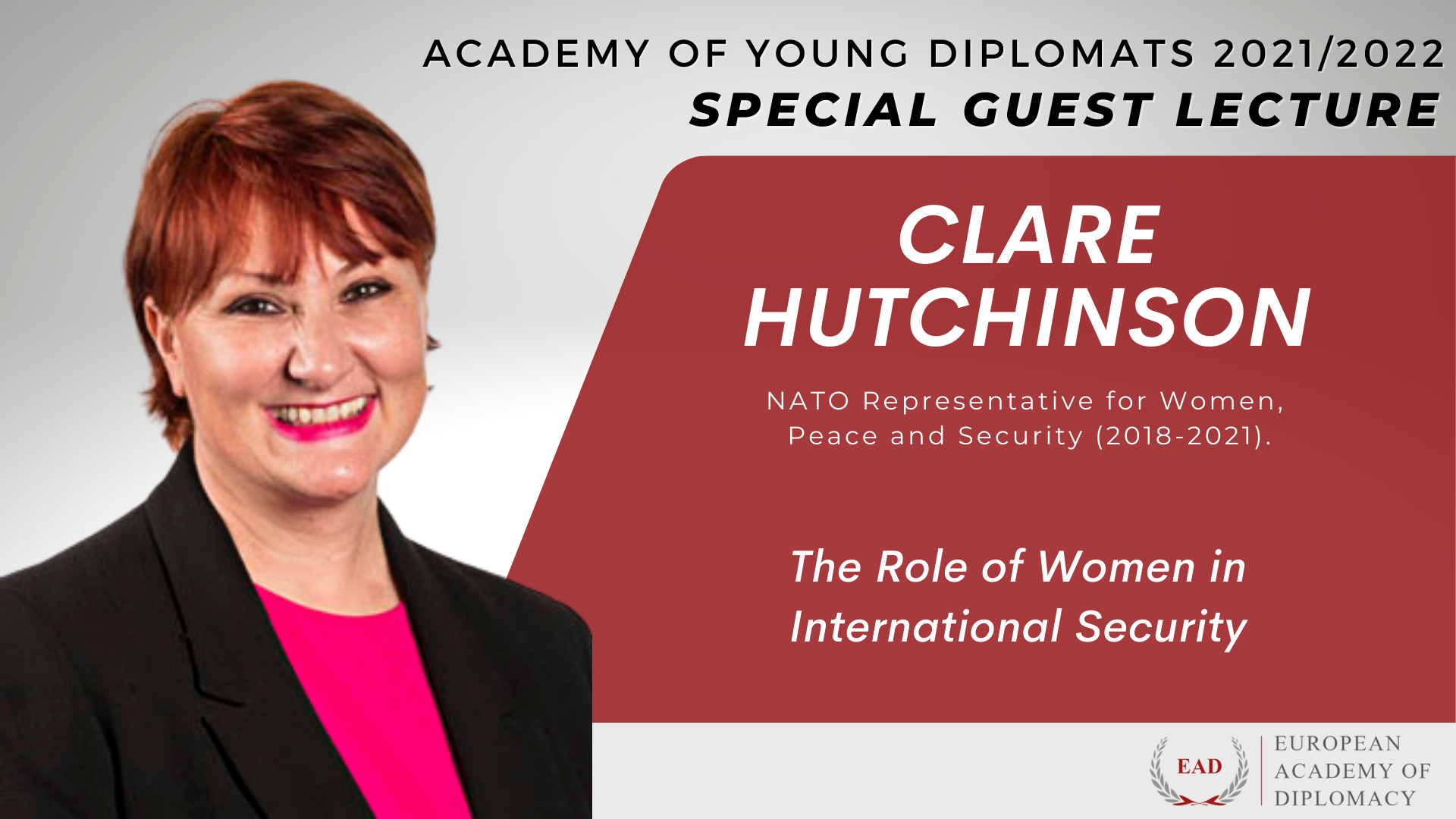 Special Guest – Clare Hutchinson at the Academy of Young Diplomats 2021/2022
The European Academy of Diplomacy (EAD) is thrilled to announce Clare Hutchinson as a Special Guest for the V Session* of the 2021/2022 edition of the Academy of Young Diplomats (AYD). During this session, Ms. Hutchinson will deliver a Leadership Lecture titled "Role of Women in International Security."
In January 2018, the Secretary-General of NATO appointed Ms. Hutchinson as the Special Representative for Women, Peace, and Security (WPS), a position she held until 2021. During her tenure at NATO, Ms. Hutchinson's role was twofold. First, Ms. Hutchinson was in charge of guiding, supporting, and facilitating the WPS Agenda across the Alliance from a political standpoint. Working alongside Ambassadors, Senior Political Leaders, and leaders of NATO, Ms. Hutchinson aimed to mainstream, influence, integrate gender perspectives across institutional policies and plan operational activities aiming to promote WPS and full equality within the Military Alliance. The second aspect of Ms. Hutchinson's work focused on Human Security. More specifically, she established the Human Security Unit bringing together all the different outlying areas and topics, including Children in Armed Conflict, Protection of Civilians, Human Trafficking, Conflict-Related Sexual Violence (CRSV), Sexual Exploitation and Abuse (SEA), and Cultural Property Protection (CPP). Areas that collectively makeup NATO's 'Human Security Mandate.' Ms. Hutchinson also served as NATO's High-Level Focal Point for Children and Armed Conflict.
Ms. Hutchinson worked as a Senior Gender Adviser with the United Nations from 2008 to 2017. Ms. Hutchinson was instrumental in setting the strategic development of Women, Peace, and Security (WPS) for the United Nations Department of Peacekeeping in New York and peacekeeping missions in Kosovo and Lebanon.
Ms. Hutchinson has a well-established career as an advocate for women's issues, supporting projects for women's empowerment across a broad spectrum of industries. For example, in 1992, she worked in the burgeoning Information and Communication Technology industry as a communications expert for internet start-ups and led projects that helped women and young people utilize technology effectively. Ms. Hutchinson continues to support women-specific technology projects.
Ms. Hutchinson's insights in the Role of Women in International Security are an invaluable contribution to the V Session of the 2021/2022 edition of the Academy of Young Diplomats.
*Partner Fundacja PZU
#AYD #FutureLeaders #VIPGuest