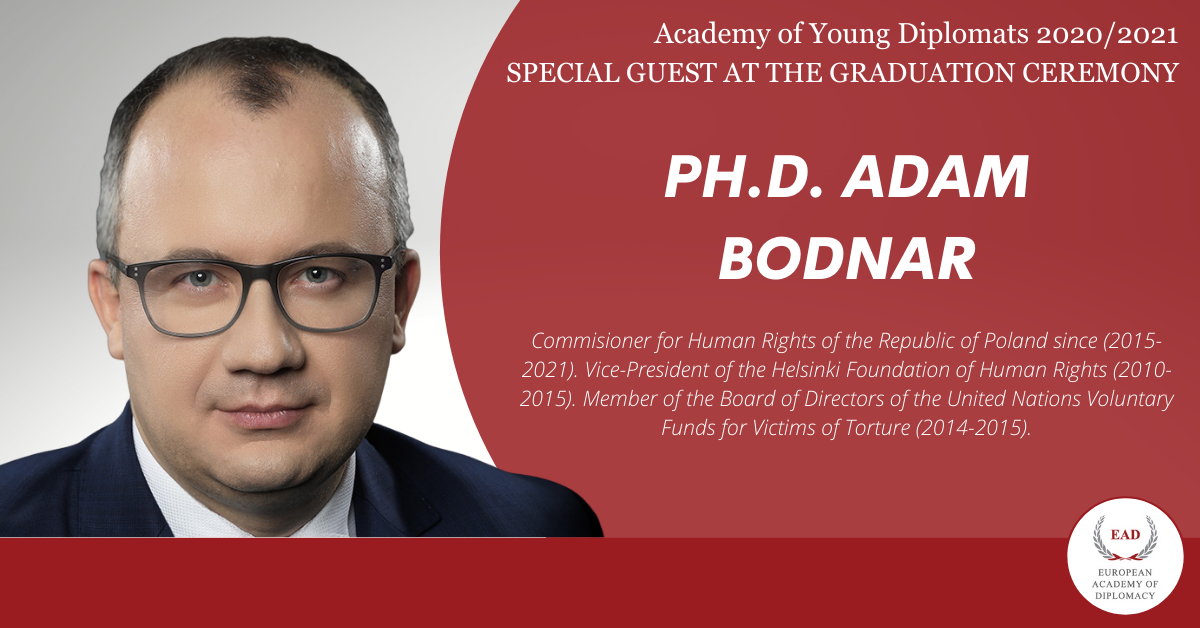 Special Guest – Prof. Adam Bodnar for the Graduation Ceremony of the Academy of Young Diplomats 2020/2021
The European Academy of Diplomacy is delighted to welcome Prof. Adam Bodnar as the VIP Guest of the Graduation Ceremony of the  2020/2021 edition of the Academy of Young Diplomats. Within the 2020/2021 edition of the program the participants had the chance to meet with such Special Guests as President Mary Robinson, President Dalia Grybauskaite, Baroness Catherine Ashton, General David H. Petraeus and  Minister Rania Al-Mashat among others. 
Adam Bodnar is a professor and lawyer specializing in Human Rights and Constitutional Law, currently a Dean of the Faculty of Law of the SWPS University.  At the same time, Professor Bodnar held the position of Commissioner for Human Rights of the Republic of Poland (2015-2021). Prior to that, he served as Vice-President of the Helsinki Foundation of Human Rights (2010-2015).  Throughout his career, Professor Adam Bodnar has been working with different NGOs as ClientEarth Poland, Panoptykon Foundation, and Professor Zbigniew Hołda Association. Following, he was also a member of the Civic Legislation Forum operating at the Batory Foundation and a member of the Board of Directors of the United Nations Voluntary Fund of Victims of Torture (2014-2015). Moreover, Professor Bodnar is the author and co-author of numerous scientific publications specifically related to the topic of human rights. 
2018 Rafto Prize, 2019 Rule of Law Award, 2020 French National Order of the Legion of Honor, Knight Class, Equality Crown by the Campaign Against Homophobia are some of the awards Professor Bodnas has been honored with over the past few years. 
The Graduation Ceremony is the closing event of the flagship year-long Diplomatic Program of the European Academy of Diplomacy – Academy of Young Diplomats. To apply for the Academy of Young Diplomats 2021/2021 edition, click here  
There are only a few spots left!
#AYD #FutureLeaders   #VIPGuest