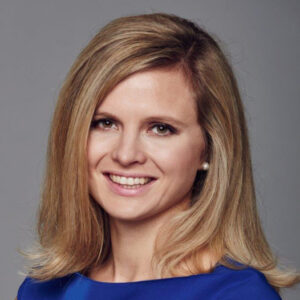 Prof. Katarzyna Pisarska
Founder & Chairwoman
Prof. Katarzyna Pisarska  is the Founder of the European Academy of Diplomacy and the Chairwoman of EAD's Board of Directors. Between 2004-2020 Prof. Pisarska served as EAD's Director and President of the Management Board. Under her leadership the institution has been transformed from a "start-up" into an internationally renowned diplomatic academy, with over 10,000 Alumni coming from 100+ countries.
Prof. Pisarska is also the Co-Founder of the Casimir Pulaski Foundation and its flagship event: the Warsaw Security Forum.  She pursues research and teaching as Associate Professor at Warsaw School of Economics. Finally, she hold a number of positions in organizations outside of Poland, including Vice President and Board Member of the European Forum Alpbach in Austria, a Senior Fellow at the Center for European Policy Analysis in Washington D.C. and an Expert of the World Economic Forum in Switzerland.
For her leadership accomplishments in the non-for-profit sector, in 2014 Prof. Pisarska has been recognized as a Young Global Leader by the World Economic Forum and later selected to serve on the YGL Advisory Group. She was also named "99 under 33" most influential world foreign policy leader by the Diplomatic Courier in Washington D.C.
Zbigniew Pisarski
Co-Founder & Member
Zbigniew PISARSKI is a political analyst, foreign and security policy media commentator and entrepreneur. He is a Founder and President of the Casimir Pulaski Foundation, a leading Polish think-tank specialising in foreign policy and security. He is also a co-founder of the European Academy of Diplomacy  and the Chairman of the Warsaw Security Forum, an annual high-level international conference on defence and security. In 2010 President of the Republic of Poland nominated him to the National Security Strategic Review Commission. He is a regular commentator for Polish and international media on European security with focus on Polish foreign and defence policy and relations with post-Soviet states, particularly with Russia. In 2015 he was awarded by the Government of Australia with Endeavour Executive Fellowship  in  the Australian Strategic Policy Institute. Zbigniew holds MA degree in European Studies from Vienna University. He was a Visiting Fellow at the Government Department at Harvard University and Visiting Scholar at the Center for Eurasian, Russian and East European Studies at Georgetown University. Completed Ph.D. studies at the Warsaw School of Economics where he is preparing his doctoral dissertation. Area of expertise: foreign policy (Poland, U.S., Russia and post-Soviet states, Iran) international security and defence, NATO, promotion of democracy.