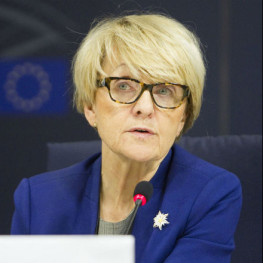 Danuta Hübner
EU Commissioner for Regional Policy (2004-2009), member of European Parliament
Born 8 April 1948 in Nisk (Poland)
Professor Hübner is a Polish economist and politician, former Minister for European Affairs in the government of Leszek Miller and former head of the Office of the Committee for European Integration, and the first Polish Commissioner in the European Union (Regional Policy).
In 1971 Professor Hübner graduated from the Faculty of Foreign Trade, School of Planning and Statistics. In 1974, she received her doctorate and was awarded her Ph. D. in 1980. On February 18, 1992 she received the title of professor of economics. Professor Hübner remains a lecturer in the Department of Developmental Economics and Economic Policy.
In 1988-1990, Professor Hübner was Fulbright scholar at the University of California-Berkeley, and was a visiting scholar at the Centre for European Studies at the University of Sussex. She has lectured at California State University in San José and was on scholarship at Universidad Autonoma Madrid. Professor Hübner has also held the position of editor-in-chief of the monthly magazine "National Economy" and the deputy editor of bi-monthly magazine "Economist".
In 1994, Professor Hübner was the advisor to the Deputy Prime Minister for Social Issues and served as Deputy Minister of Industry and Trade from 1994-1996. From 1996 to 1998, she served as the head of the newly created Office of the Committee for European Integration.
Professor Hübner was the Vice-President of the UN Economic Commission for Europe, Deputy Minister of Foreign Affairs, Member of the Council of Ministers and represented Poland in the European Commission. On January 22, 2004 Professor Hübner was recommended by the Commission of Foreign Affairs of the Polish Commissioner in Brussels. In May of the same year she was appointed commissioner, a member of the European Commission Pascal Lamy, the French Commissioner for Trade.
Professor Hübner was a candidate of the Civic Platform in elections to the European Parliament in 2009 and won her seat obtaining 311,018 votes. Assuming the mandate, Professor Hübner resigned from membership in the European Commission but has served, since 2009, as president of the Regional Development Committee in the EP.
From 1970 to 1987, she was a member of the Polish United Workers' Party. Since then Professor Hübner has remained nonpartisan. By order of the President of the Republic of Poland, dated November 11, 1996, in recognition of his outstanding contribution to public service, she was awarded the Knight's Cross of the Order of the Rebirth of Polish. In 1997 she was awarded the Portuguese Order of Merit.
Professor Hübner is committed to the "Kongres Kobiety" – Women's Congress – a movement dedicated to bridging the equality gap between men and women and in 2011, she was named Prime Minister of the Women's Congress Shadow Cabinet.
Other Events