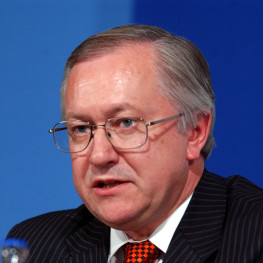 Boris Tarasyuk
Minister of Foreign Affairs of Ukraine (1998 - 2000 and 2005 - 2007), Member of the Verkhovna Rada (2002 - 2005, 2006, 2007 - till now)
Borys Tarasyuk is a Ukrainian politician born on 1 January 1949. He has twice served as the Minister for Foreign Affairs of Ukraine. He is from Zhytomyr Oblast. Tarasyuk studied international relations and international law at National Taras Shevchenko University of Kyiv, and graduated in 1975. Besides Ukrainian, he is fluent in English, French and Russian.
Tarasyuk served as deputy of foreign minister from 9 March 1992 till 16 September 1995. In 1995 – 1998 he was ambassador in Belgium, Luxembourg, Netherlands and Ukraine representative in NATO. He become foreign minister for the first time from 17 April 1998 until 29 September 2000. He later broke with President Leonid Kuchma, and became a foreign relations adviser to Viktor Yushchenko, the main opposition candidate in the 2004 presidential elections. After Ukraine's Orange Revolution, Tarasyuk became foreign minister again on 4 February 2005, and served in the Cabinets of Yulia Tymoshenko, Yuriy Yekhanurov, and Viktor Yanukovych. Tarasyuk favors Ukrainian integration with the European Union.
Tarasyuk was formally dismissed by the Verkhovna Rada on 1 December 2006. He disputed this dismissal in Kyiv Shevchenkivskyi district court, and on 5 December parliament's decision was reversed on the grounds that it violated Ukrainian law. On the same day, Yushchenko issued a decree that Tarasyuk must keep his job.
Borys Tarasyuk is the founder of the Institute for Euro-Atlantic Cooperation (IEAC), a political action committee established to campaign for NATO- and European Union memberships in Ukraine. The group is funded by Western donations and is open about its goals. The IEAC' logo juxtaposes the flag of Ukraine with the logos of NATO and the European Union. The Institute for Euro-Atlantic Cooperation has influenced Ukraine state policy in the past. For example, a report produced by the Institute titled Trilateral Plan for Solving the Transnistrian Issue recommended changes to the customs regime relating to Transnistria.