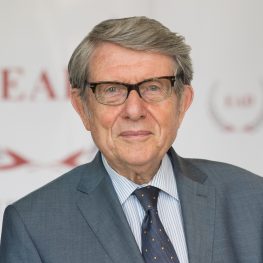 Jerzy M. Nowak
Permanent Representative to IAEA, UN & UNIDO (1992 - 1997), NATO & WEU (2002 - 2007), Ambassador to Spain (2000 - 2002)
Ambassador ad personam, in the foreign service from 1960 to 2010. On diplomatic missions to: Dar-es-Salaam (1962-65), Buenos Aires (1967-71) and New York (UN mission, 1981-86). Served as Ambassador of the Republic of Poland to the UN International Atomic Energy Agency, Office of the UN and UNIDO in Vienna (1992-97) and in Spain (2000-2002), concurrently accredited to the Principality of Andorra. Ambassador and Permanent Representative of the Republic of Poland to NATO and the Western European Union in Brussels (2002-07). From 2005-2007, Dean of the North Atlantic Council.
In the Ministry of Foreign Affairs, among other positions, Head of the Departments of Education and Programmes (1987-91) and Security Policy (1997-2000), and concurrently a negotiator of Poland's accession to NATO, negotiator of the Adapted CFE Treaty and the Personal Representative of the Polish Office of the OSCE – Minister Bronislaw Geremek (1997-99). From 1973-2000 also involved in CSCE negotiations and then in OSCE activities.
Member of the Euro-Atlantic Association (President, Council Vice President), member of the American Eisenhower Fellowship, and, earlier, member of the Board of Directors of the East-West Institute in New York and the Polish association of the Club of Rome. Founding Member of the United Nations Student Association (UNSA) from 1957. Member of the EAD Council of Ambassadors. Senior Research Fellow of the Center for International Relations in Warsaw and lecturer in the Copernicus University in Torun. From 2009-2010 Plenipotentiary Minister of Foreign Affairs overseeing security policy. Doctor of Law, in 2011 published a monography on the Warsaw Pact, titled "From Hegemony to Agony". Author of several publications in Poland and abroad concerning European security and arms control in CSCE/OSCE and NATO.
Awarded orders in Poland, Spain, Lithuania and Ukraine.