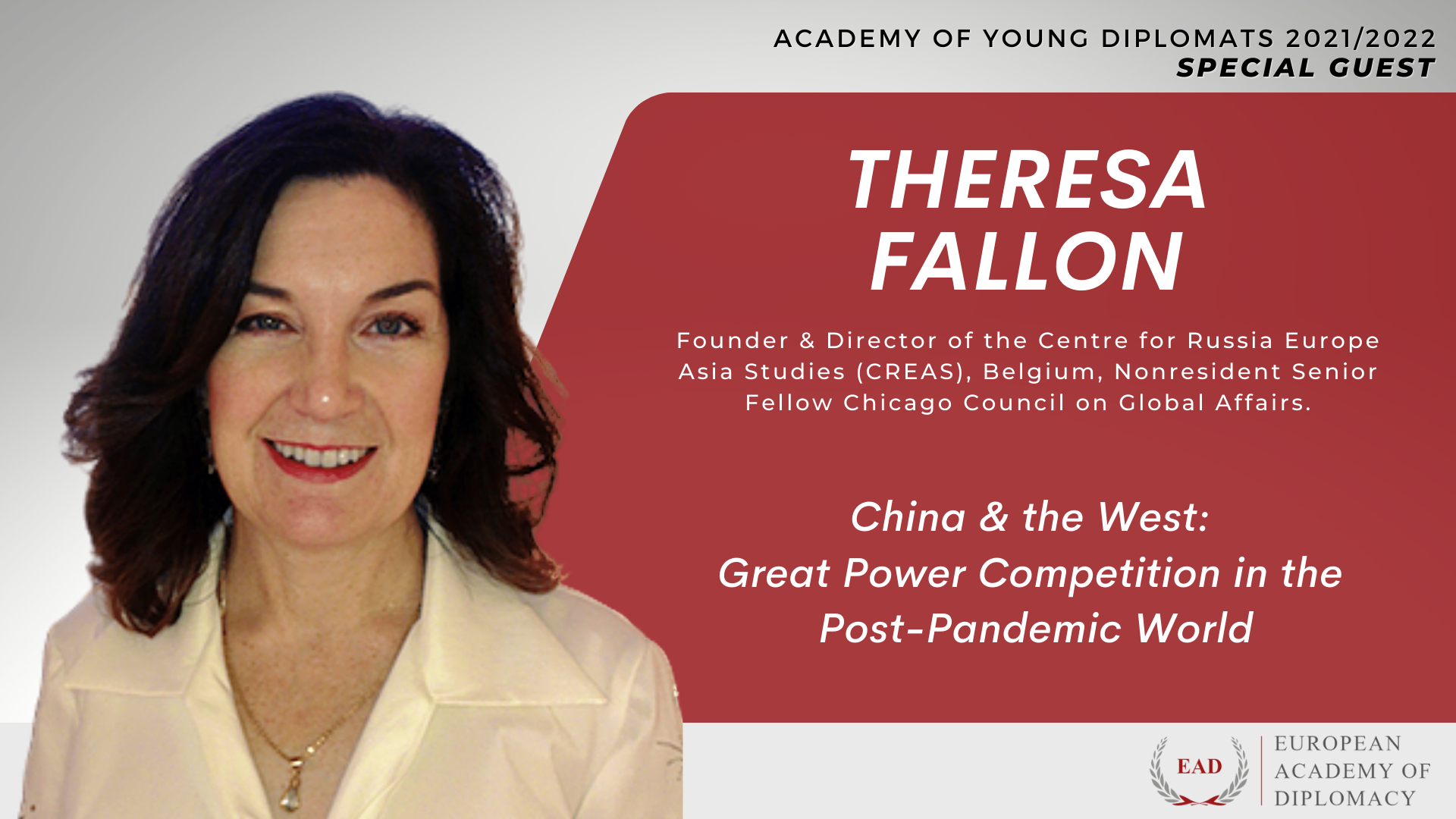 Special Guest – Theresa Fallon at the Academy of Young Diplomats 2021/2022
The European Academy of Diplomacy (EAD) is thrilled to announce Theresa Fallon as a Special Guest for the IV Session* of the 2021/2022 edition of the Academy of Young Diplomats (AYD). During this session, Ms. Fallon will deliver a Global Talk titled "China & the West: Great Power Competition in the Post-Pandemic World."
Ms. Fallon is a renowned analyst, writer, and commentator on global energy politics. She is the founder and director of the Centre for Russia Europe Asia Studies (CREAS), a Brussels-based think-tank whose aim is to promote analysis, encourage debate and understand the significance of the evolving connections across Eurasia. Besides her work at CREAS, Ms. Fallon is currently a member of the Council for Security Cooperation in the Asia Pacific (CSCAP-EU) and a Nonresident Senior Fellow of the Chicago Council on Global Affairs, Adjunct Professor at the George C. Marshall European Center for Security Studies, a member of the CEPS Task Force on AI and Cybersecurity, a member of the Loisach Group on transatlantic relations, and a member of the National Committee on U.S.-China Relations.
Ms. Fallon has a well-established career on the world stage. She has testified in multiple international boards such as the European Parliament Committee on Foreign Affairs and Subcommittee on Security and Defense, the House of Lords in the United Kingdom, and several United States government institutions, to mention a few. Additionally, Ms. Fallon has previously worked as a Senior Associate with the European Institute for Asian Studies (EIAS) in Brussels and as a member of the Strategic Advisors Group for the NATO Supreme Allied Commander Europe (SACEUR). Ms. Fallon has also worked as a researcher and consultant in Beijing, as a representative of Plan Econ, a research and consulting firm, in Moscow, and as an Economics Professor at the American Institute of International Business in Moscow.
Ms. Fallon's insights in Power Competition between China and the West are an invaluable contribution to the IV Session of the 2021/2022 edition of the Academy of Young Diplomats.
*Partner Fundacja PZU
#AYD         #FutureLeaders       #VIPGuest