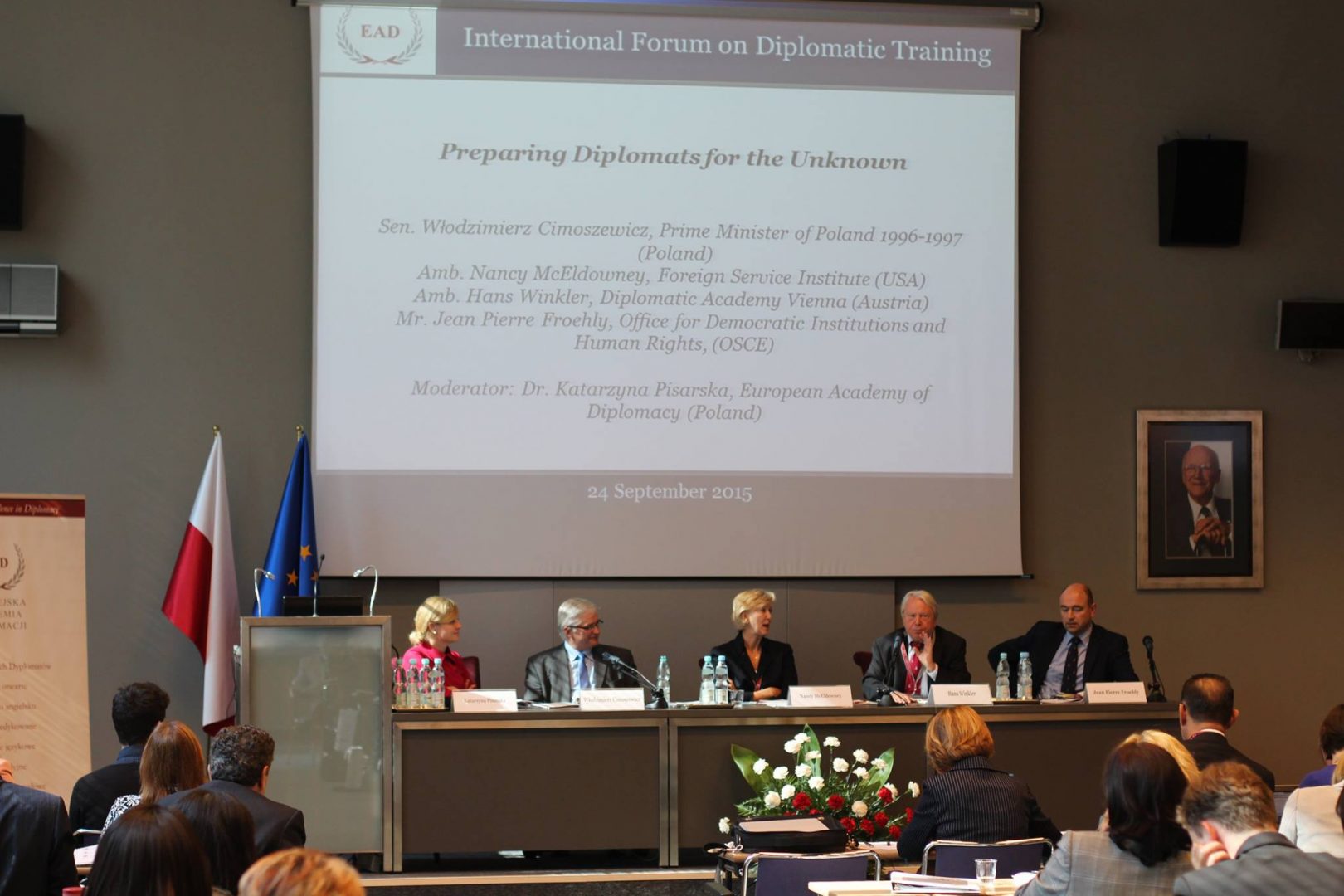 The International Forum on Diplomatic Training
From the 23rd to the 26th of September, the European Academy of Diplomacy, in cooperation with the National School of Public Administration, hosted the 42nd meeting of Deans and Directors of Diplomatic Academies and Institutes of International Relations. The forum gathered representatives from 6 continents and more than 50 diplomatic academies for an intense 3-days program that discussed new trends and challenges in preparing future diplomats for work in a rapidly changing international environment. Guest speakers included President Aleksander Kwaśniewski, Prime Minister Włodzimierz Cimoszewicz and Minister Andrzej Olechowski.
The program was opened with a keynote delivered by President Kwaśniewski that discussed Poland's democratic transition experience and how this lends naturally to Poland's rise as leaders in diplomacy. Following a Q&A session with the IFDT members, former Prime Minister Włodzimierz Cimoszewicz joined Ambassadors Nancy McEldowney (Foreign Service Institute, U.S. State Department) and Hans Winkler (Vienna Diplomatic Academy) and Jean Pierre Froehly (OSCE-ODiHR) on the "Preparing Diplomats for the Unknown" panel, moderated by EAD Director Dr. Katarzyna Pisarska.
One new feature of this year's International Forum on Diplomatic Training was the introduction of working groups – interactive discussions focusing on topics, such as: working with civil society, diplomacy & human rights, mentoring in diplomatic training, implementing new technologies, European diplomatic training & the EEAS, and recruiting and training of new diplomats.
The final day of the program saw the students of the EAD and KSAP participate in an open session featuring three members of the IFDT. Ambassador Barbara Bodine (Georgetown University) lead a Q&A on the Drivers of migration, instability and the shifting tectonic plates in the Middle East while the IFDT's member from UNITAR offered advice to students who are interested in pursuing a career in the United Nations. The Student's Day was wrapped up with a lecture from Professor Alan Henrikson Fletcher School of Law & Diplomacy) on Diplomacy's Possible Futures
The 2016 International Forum on Diplomatic Training will be hosted by the Australian National University (ANU) in Canberra.