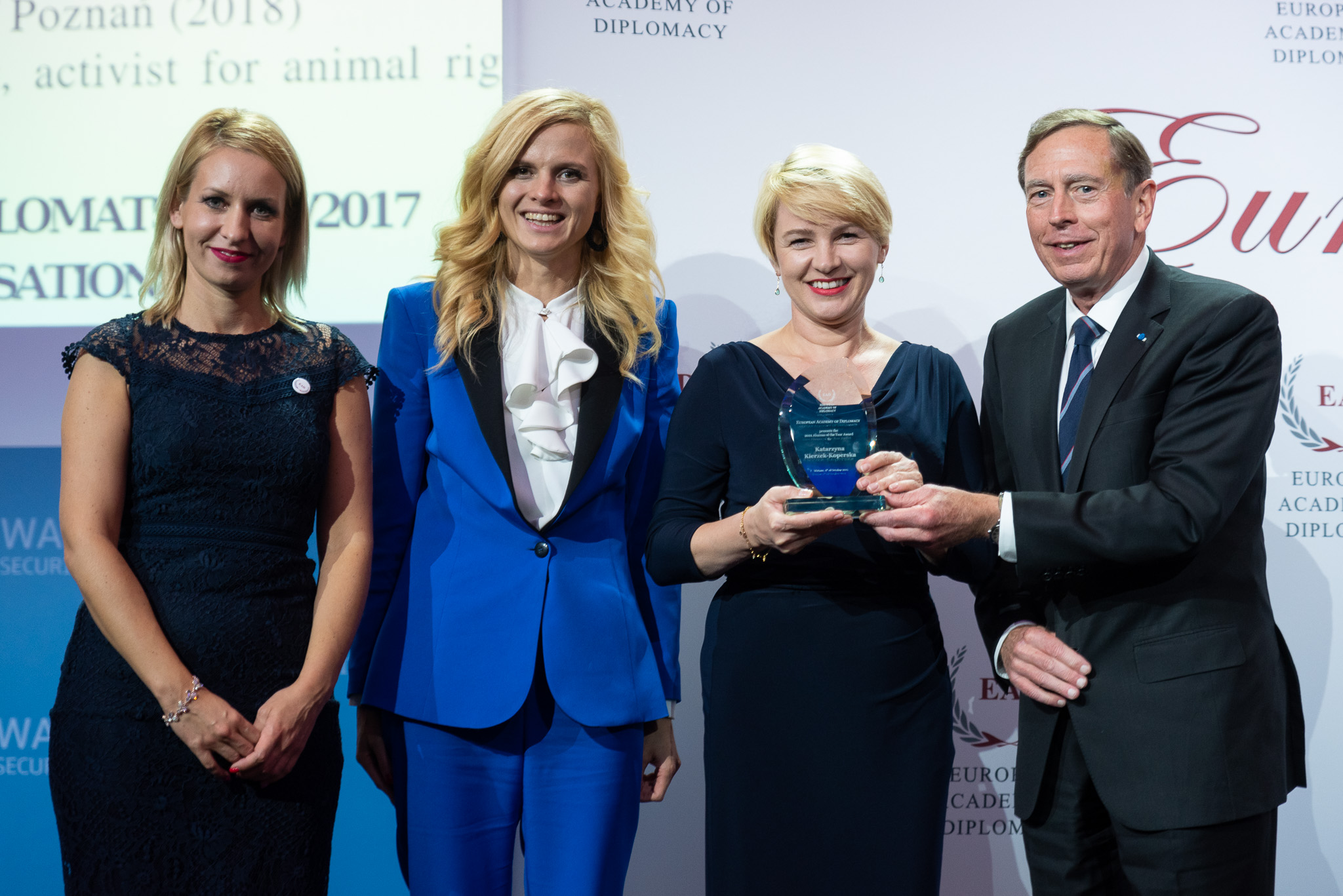 2021 Alumni of the Year Award
On 6th October 2021, during the long-awaited 2019-2020 edition of the Academy of Young Diplomats Graduation Ceremony held within the framework of the prestigious 2021 Warsaw Security Forum, the European Academy of Diplomacy had distinguished a former graduate with the annual Alumni of the Year Award. The recipient, Ms. Katarzyna Kierzek-Koperska (Poland), was honored with the award from the European Academy of Diplomacy Founder and Chairwoman, Prof. Katarzyna Pisarska. 
The Alumni of the Year Award was designed to commemorate the outstanding accomplishments of graduates of the European Academy of Diplomacy, who hail from over 60 countries. The honorees are selected on the basis of their achievements in diplomacy, international relations expertise, social entrepreneurship, and civic activism. Throughout their work, the awardees are expected to embody the European Academy of Diplomacy's values: Respect & Dialogue, Co-ownership, Empowerment, and Ethical Engagement.
Katarzyna Kierzek-Koperska is a tax advisor, entrepreneur, economist, politician and currently a Vice-President of the Management Board of Wielkopolski Fundusz Rozwoju (since 2021). From 2008 to 2012, she covered the position of Vice-President of the Wielkopolska Branch of the National Chamber of Tax Advisers. In 2015, Ms. Katarzyna Kierzek-Koperska started her political career, becoming Secretary of the Modern party in Greater Poland and, later on, President of the Greater Poland region. In 2018, in the local government elections she was designated Councilor for the term in office 2018-2023. In the same year, Katarzyna was also appointed Deputy Mayor of the City of Poznań, becoming responsible for the supervision of the Office of the Municipal Consumer Ombudsman, Department of Economic Activity and Agriculture, Department of City Development and International Cooperation, as well as Department of Environmental Development and Protection.
In addition, Ms. Kierzek-Koperska is a passionate environmentalist, activist for animal rights and climate change. The Academy is proud to have awarded such an exceptional female leader and the Alumni of Academy of Young Diplomats 2016/2017 and share her success with the future participants.
#AYD #AlumniOfTheYear #FutureLeaders