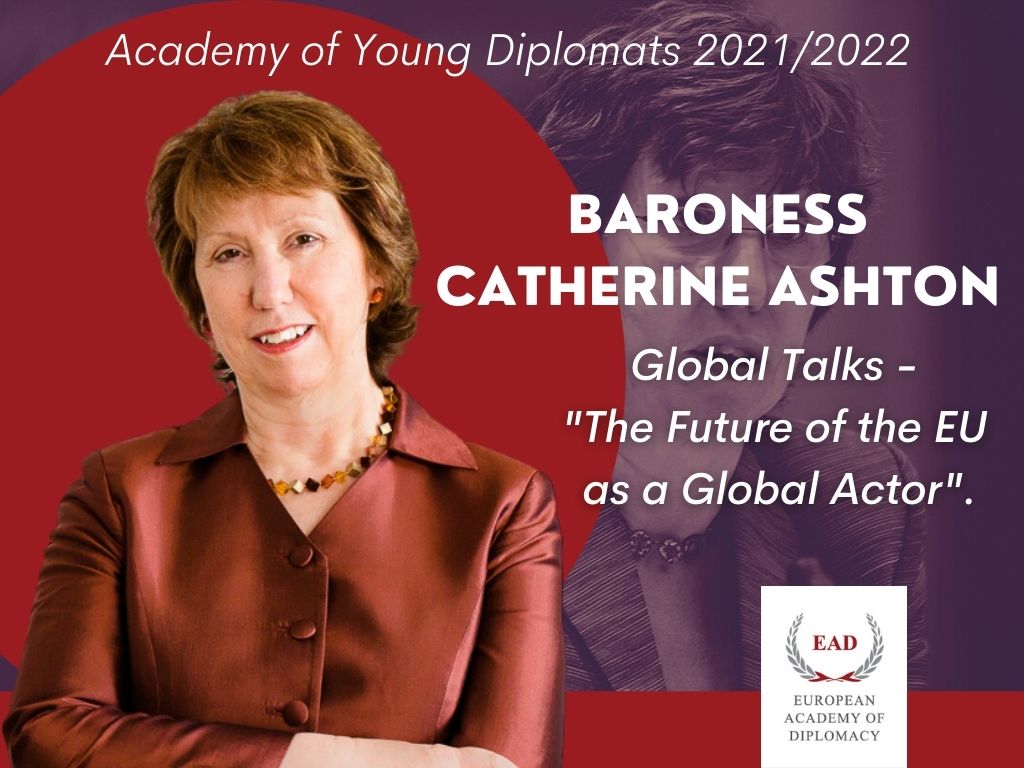 Academy of Young Diplomats 2020/2021 Opening Session
We are proud to announce that the Opening Session for the Academy of Young Diplomats 2021/2022* will commence with an absolutely exclusive Special Guest and inspiring female leader – Baroness Catherine Ashton.
The European Academy of Diplomacy is delighted to welcome Mrs. Catherine Ashton as the VIP Guest of the 2021/2022 Annual Diplomatic Program's Inauguration Ceremony of the European Academy of Diplomacy – The Academy of Young Diplomats.
The Academy of Young Diplomats' selected participants, will have the opportunity to take part in an open speech and conversation with Baroness Catherine Ashton in the context of their First Session of the 2021/2022 edition of the program. 
Catherine Ashton is the Baroness of Upholland, High Representative of the Union for Foreign Affairs and Security Policy, and First Vice President of the European Commission in the Barroso Commission (2009-2014). Her main focus through her parliamentary career was human rights and education issues. Between 2001-2004 Mrs. Ashton served as a junior education minister, and in 2002 assumed the leadership of the early-childhood-development initiative Sure Start. It was in the year 2004 when Lady Catherin became a junior minister for constitutional affairs. In 2007, Mrs. Ashton served as a junior justice minister, and shorter after she was promoted to leader of the House of Lords by Prime Minister Gordon Brown. Following, in the year 2008, she was appointed as Trade Commissioner to the European Commission.
The Inauguration Ceremony officially commences the year-long diplomatic program organized by the European Academy of Diplomacy. The over 100 members of the Academy of Young Diplomats' cohort are going to be officially starting their postgraduate program which is going to be followed by hybrid sessions (4 online and 4 live) covering topics of the area of International Organizations, International Security, and Foreign Service. 
*Partner Fundacja PZU
#AYD #FutureLeaders   #VIPGuest