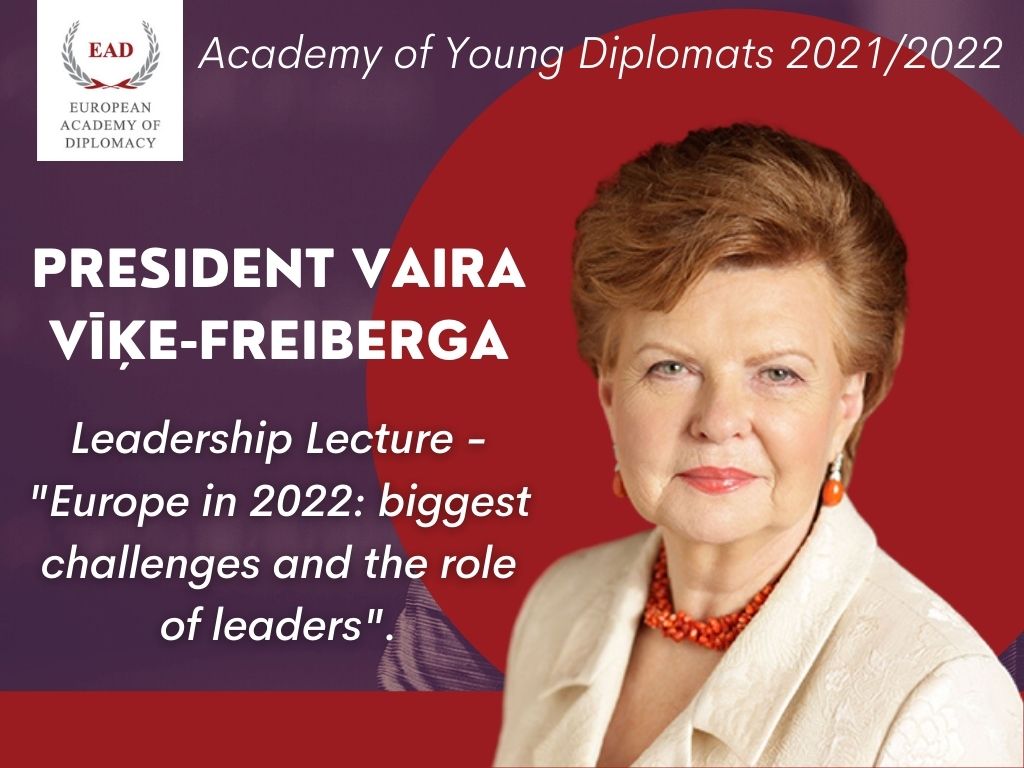 Special Guest- President  Vaira Vīķe-Freiberga at the Academy of Young Diplomats 2021/2022
The European Academy of Diplomacy is delighted to e-host President Vaira Vīķe-Freiberga as a VIP Guest in the context of the II session* of the Academy of Young Diplomats, 2021/2022 edition. President Vīķe-Freiberga is going to deliver a Leadership Lecture on the topic of "Europe in 2022: biggest challenges and the role of leaders" for the new cohort within the framework of the World Forum for Democracy side-events, co-organized with Visegrad School of Political Studies as well as the Council of Europe.
Dr. Vaira Vīķe-Freiberga is President of the Club of Madrid and President of the Republic of Latvia (1999 – 2007).  She was instrumental in achieving membership in the European Union and NATO for her country and raised the nation's recognition through her international activities. She was named United Nations Special Envoy on UN reform in 2005. Since 2007, she has been solicited as a speaker on democracy, social issues, moral values, European historical dialogue, security, and defense policy. In 2007 she was appointed Vice-chair of the Reflection group on the long-term future of Europe. In 2011-2012 she chaired the High-level group on freedom and pluralism of the media in the EU.  Since 2014, she is President of the Club de Madrid of over 100 democrati­cally elected former Heads of State and Government. She is currently a member of two High-level groups on European security and defense.
Dr. Vike-Freiberga is a member of 31 international organizations, including the International Criminal Court Trust Fund for Victims, and the European Council on Foreign Relations, as well as five Academies. She has been awarded 34 Orders of Merit and 19 Honorary doctorates, as well as many prizes and honors, including the 2005 Hannah-Arendt Prize for political thinking and the 2013 Knight of Freedom Award of the Casimir Pulaski Foundation. She has published 15 books and is the author or co-author of some 200 articles, book chapters, reports, and audio-visual materials.
*Partner Fundacja PZU
#CoE #WFD #AYD #FutureLeaders   #VIPGuest