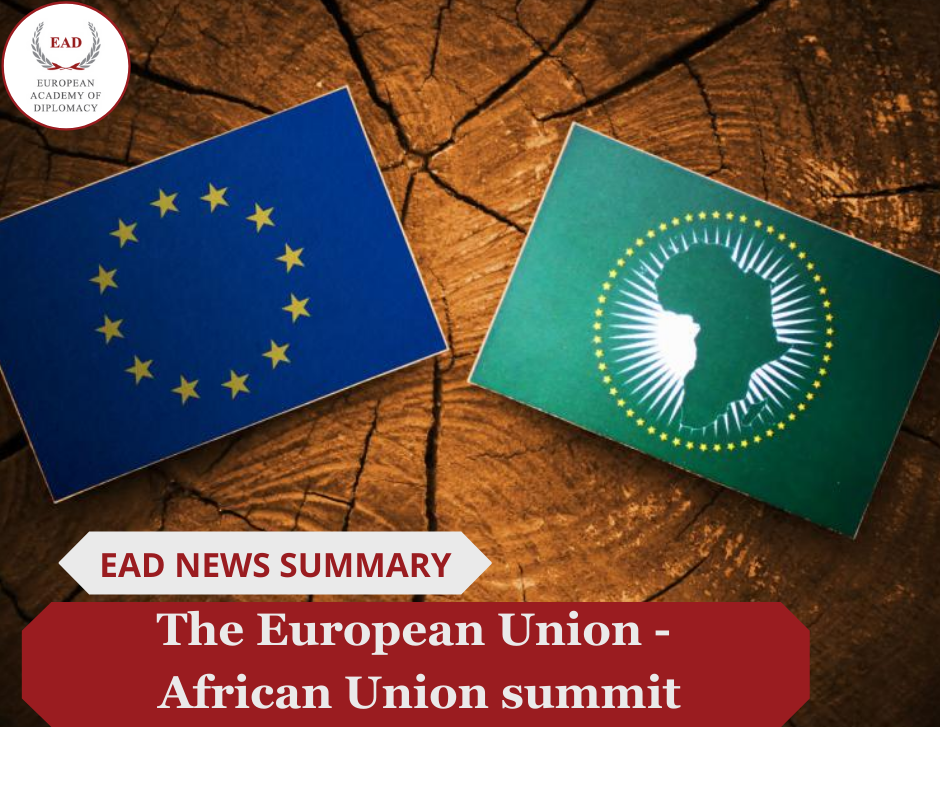 EAD Weekly News Summary – 14 – 20.02.2022
European Union – African Union Summit
Over seventy European and African leaders will gather on Thursday afternoon in Brussels for the European Union-African Union Summit that kicks off with a controversial bid from the EU to strengthen its position on the neighboring continent amid strong competition from China.
European Union leaders want to re-engage with African nations and counter the growing influence from China and Russia across the continent during the two-day summit however this comes after two turbulent years that saw accusations of "vaccine apartheid" and "discriminatory" travel bans.
As many as 40 African heads of states and governments confirmed their participation at the 6th European Union-African Union Summit who will join their European counterparts in discussing economic growth, climate change, migration, and security.
(Source: BBC NEWS)
---
The Trilateral Memorandum of Cooperation
Poland, Ukraine and the United Kingdom have announced a new agreement to cooperate amidst the ongoing Russian aggression towards Ukraine. This agreement named the  "Trilateral Memorandum of Cooperation" was forged yesterday by the three countries' foreign ministers and announced as the UK's Liz Truss visited Kyiv to meet with her Ukrainian counterpart, Dmytro Kuleba.
In their joint statement, Poland and the UK pledged to continue to provide Ukraine with support, standing in unity with Ukraine, in the face of ongoing Russian aggression. They promised to enhance cooperation on cyber security, energy security and countering disinformation.
(SOURCE:Notes from Poland)
---
France and EU to withdraw troops from Mali
President Emmanuel Macron on Thursday said that France will withdraw its troops from Mali nine years after it first intervened to drive Islamic extremists from power but intends to maintain a military presence in neighboring West African nations. Macron accused Mali's ruling military junta of neglecting the fight against Islamic extremists and said it was logical for France to withdraw since its role is not to replace a sovereign state on the battlefield and that victory against terror is not possible if it's not supported by the state itself.
European leaders have followed to announce that troops from the European-led military task force known as Takuba also would withdraw from Mali. The Takuba task force is composed of several hundred special forces troops from about a dozen European countries, including France.
(SOURCE: Aljazeera News)
---
USA agrees to sell Poland battle tanks to boost NATO'S capability
The Biden administration has agreed to an estimated $6 billion sale of battle tanks and related equipment to Poland as announced by the US State Department on Friday.
 According to the statement issued,this proposed sale will support the foreign policy and national security of the United States by helping to improve the security of a NATO ally that is a force for political stability and economic progress in Europe.
The sale of Abrams tanks to Poland, which is also home to a future U.S. missile defense site, is another sign of a deep and growing defense relationship with the United States. It follows the deployment of nearly 5,000 additional U.S. troops to Poland as well as additional fighter aircraft, as part of Washington's response to the Ukraine crisis.
(Source: CNN)
---
Russia to carry out Massive Nuclear Drills
The Russian military announced massive drills of its strategic nuclear forces, a stern reminder of the country's nuclear power  amidst fears that Moscow might be preparing to invade Ukraine.
Russian President, Vladimir Putin, will personally oversee the exercise, which will involve multiple practice launches of intercontinental ballistic missiles and cruise missiles according to the Defense Ministry. Kremlin spokesman Dmitry Peskov said Putin would observe the drills from the Defense Ministry's situation room and supervise the practice missile launches himself.
The ministry said it planned the operation some a while back to check the readiness of Russia's military command and personnel, as well as the reliability of its nuclear and conventional weapons.The exercise of Russia's nuclear forces follows a series of sweeping drills that the Russian military held near Ukraine and in Belarus. 
(Source: CNN )