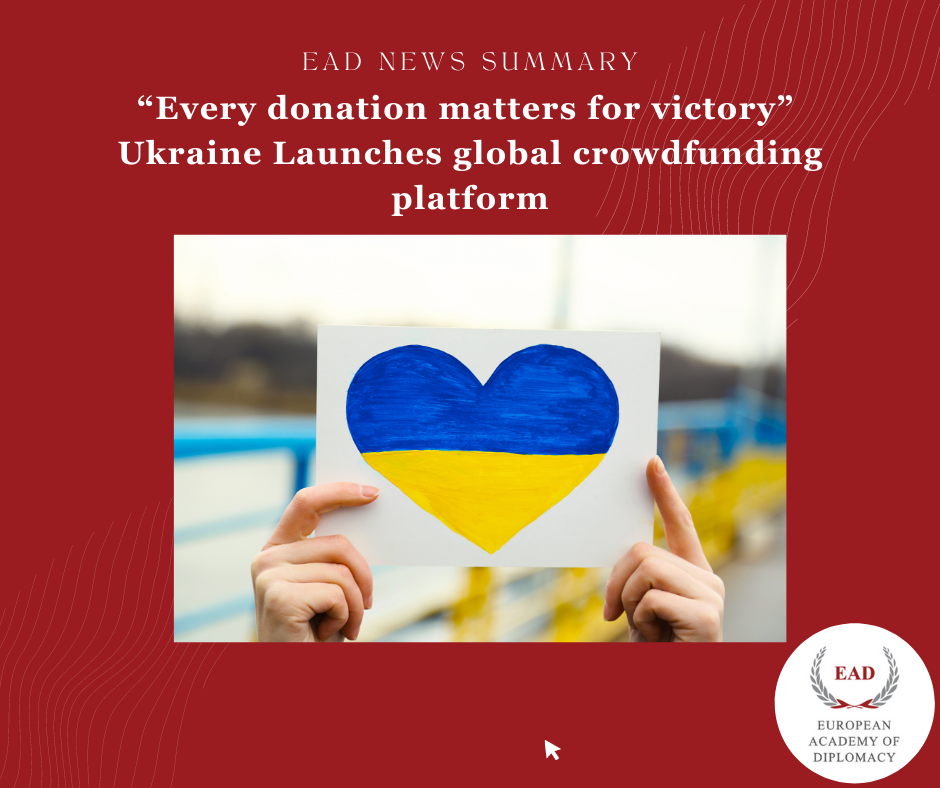 EAD Weekly News Summary – 2 – 8.05.2022
Global Crowdfunding For Ukraine 
Ukrainian President launched a global crowdfunding platform on Thursday. The main goal is to help Kyiv win the war with Russia and rebuild the country's infrastructure. According to President Zelensky, all funds will be transferred to the National Bank of Ukraine. They will be allocated to relevant ministries. Further, he indicated that his government would give updates every day about how the money is used.
In his video on Twitter, President Zelensky urged all global citizens to help Ukraine win this war against Moscow by supporting the civilians and defenders of Ukraine. It could be done by donating to the United24 platform, available here: u24.gov.ua.
"Every donation matters for victory." President Zelensky said.
(Source: Reuters)
---
UK's Johnson talks with Zelensky over UN-led evacuation process
Britain's Prime Minister, Boris Johnson, discussed the progress of the UN effort to evacuate people from the city of Mariupol. He offered the UK's continued economic and humanitarian support during a talk on Saturday with Ukrainian President.
Moreover, the British PM insisted that he is more committed than ever to reinforcing Ukraine and ensuring that Russian President, Vladimir Putin, fails. He also praised Ukrainians for their persistent fight for their freedom. In a statement, he confirmed that the UK will continue to provide additional military aid to give the Ukrainians the equipment they need.
(Source: BBC NEWS)
---
The Race to Electric Cars 
Volkswagen, the world's second-largest electric vehicle manufacturer in terms of volume, has completely sold out of electric models in the US and Europe for this year. The manufacturing group, which includes brands such as Porsche, Audi and Škoda, sold more than 99,000 electric models worldwide in the first three months of 2022. Later, it was hit by a shortage of semiconductors and wiring harnesses made in Ukraine.
Volkswagen's CEO, Herbert Diess, said that, since demand had remained high, the company had an order backlog in western Europe of 300,000 electric cars. He added that customers now placing orders in Europe and the US would not get their electric models before 2023.
(Source: Financial Times)
---
International donors' conference in Warsaw raises €7 billion to support Ukraine
An international donors' conference was hosted in Warsaw by Poland and Sweden. It has raised over €7 billion for Ukraine according to the Polish Prime Minister, Mateusz Morawiecki. The participants included Heads of State, global businesses, financial institutions, and humanitarian bodies.
The event was also organized in cooperation with the European Commission which pledged €200 million for internally displaced people in Ukraine, and the European Council. During meetings with Ursula von der Leyen and Charles Michel, PM Morawiecki discussed imposing tougher sanctions on Russia.
President Zelensky also spoke remotely at the conference, repeating his previous calls for Ukraine to be allowed to join the EU "quickly".
(Source: Notes From Poland)
---
Anti-government Protests in Sri Lanka
Thousands of shops, schools and businesses closed on Friday as public and private sector workers in Sri Lanka went on strike. They demand that the President and his government step down. Currently the island is going through the worst financial crisis in decades.
It was hit hard by the pandemic, rising oil prices and tax cuts by the government of Gotabaya Rajapaksa. According to the Finance Minister, Sri Lanka has been left with only $50 million in usable foreign reserves.
These anti- government protests followed acute shortages of imported food, fuel and medicines .
(Source: Reuters)