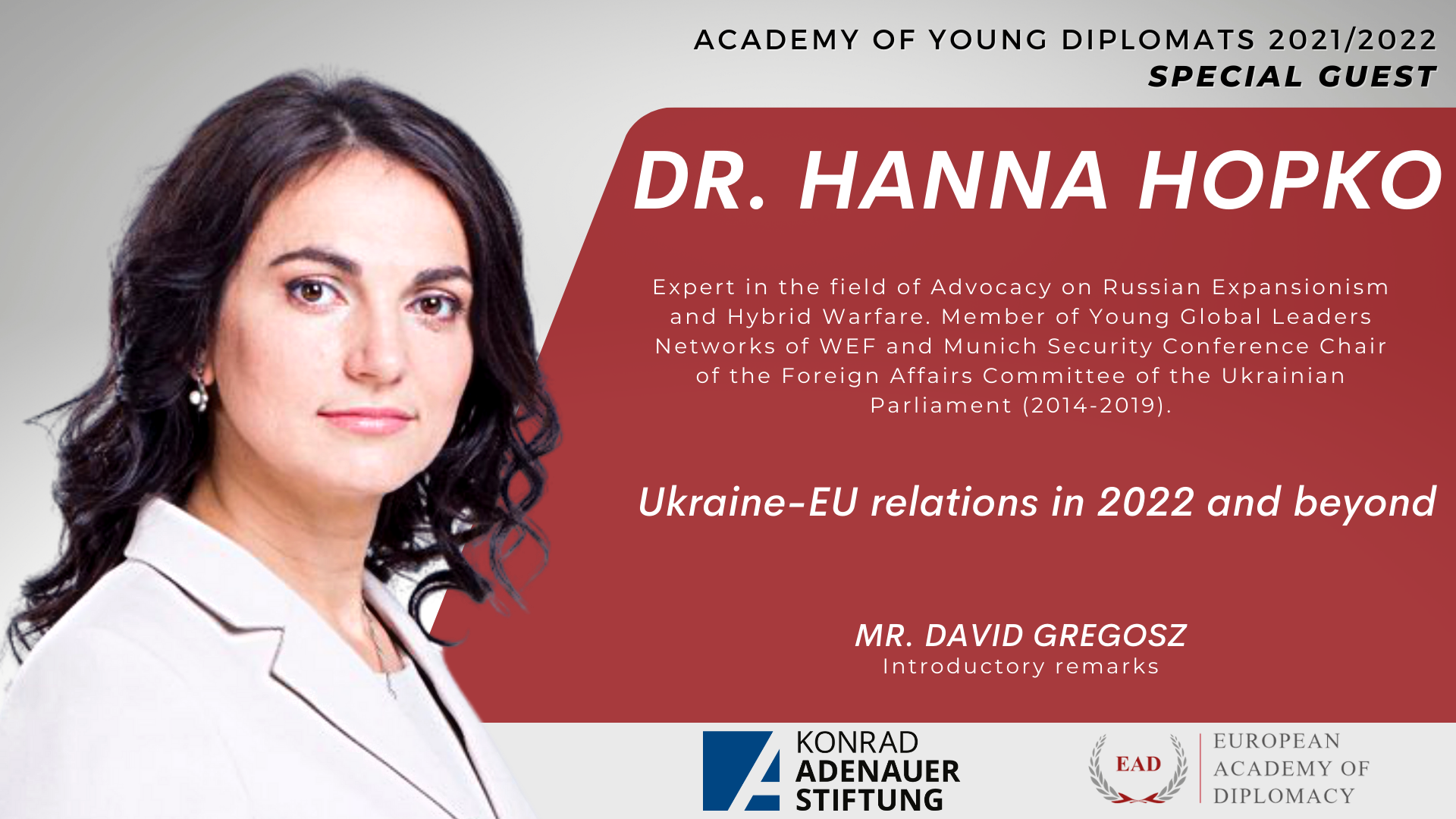 Special Guest – Ms. Hanna Hopko at the Academy of Young Diplomats 2021/2022
The European Academy of Diplomacy (EAD) is proud to announce Ms. Hanna Hopko as a Special Guest for the VII Session of the 2021/2022 edition of the Academy of Young Diplomats (AYD). During this session, Ms. Hopko delivered a lecture on "Ukraine-EU relations in 2022 and beyond." Mr. David Gregosz, Director of the Konrad Adenauer Foundation Office in Poland, our strategic partner, gave the opening speech of our VII Session.
Ms. Hopko is a Ukrainian expert in the field of advocacy on Russian expansionism and hybrid warfare. She was one of the civic leaders of the EuroMaidan during Ukraine's Revolution of Dignity and was elected to Parliament from the pro-European Self-Reliance Party in 2014 and later served as an independent MP. There she was the chairwoman of the Foreign Affairs Committee (2014-2019). Ms. Hopko also belongs to the Young Global Leaders Networks of WEF (World Economic Forum) and Munich Security Conference and was named "Leading Global Thinker" by Foreign Policy Magazine in 2014.
Moreover, Ms. Hopko holds a Ph.D. in Political Communications and was honored with a"Certificate of Merit" at the Georgetown University Leadership Seminar, and with the "National Democratic Institute Democracy Award" for her efforts for the advancement of democracy in Ukraine.
Ms. Hopko's expertise in the field of advocacy and Ukraine-EU relations will be an invaluable contribution to the VII Session of the 2021/2022 edition of the Academy of Young Diplomats.
The Academy of Young Diplomats is a top-tier postgraduate diplomatic program aiming to empower a new generation of global leaders, through an innovative year-long training experience with hands-on Diplomatic Workshops, Specialization Classes, and Study Visits, within a one-of-a-kind learning experience, bringing together 120 future leaders from over 50 countries.
#AYD #FutureLeaders #KyivNotKiev