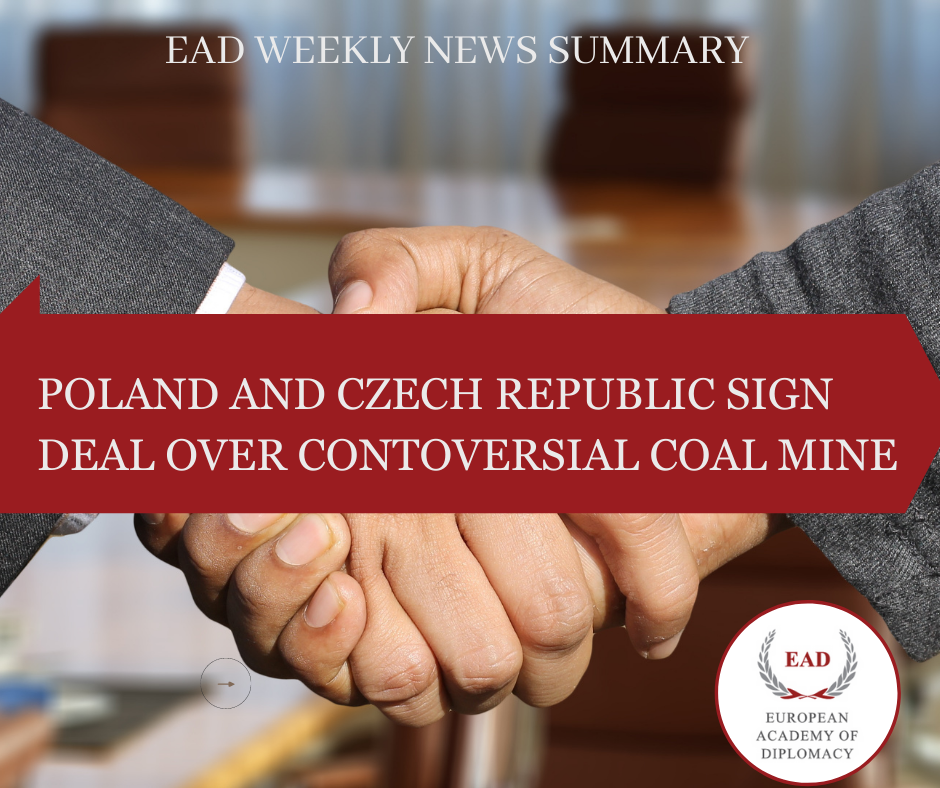 EAD Weekly News Summary – 7.02-11.02.2022
Poland and the Czech Republic sign a deal to end the dispute over a controversial coal mine.
Czech Republic and Poland  signed a deal to end a prolonged dispute over a coal mine situated on the Polish side of the border. The agreement, signed in Prague on Thursday by Polish Prime Minister Mateusz Morawiecki and his Czech counterpart Petr Fiala sought to end the legal tussle between the two states which had strained their ties.
Morawiecki said the agreement means that Poland's Turow open-pit mine and the adjacent Turow power plant which is fueled by the mine will continue to run without any interference.
The Czech Republic had filed a lawsuit against the issue to the European Court of Justice last year, arguing that Poland was ignorant towards its protests and the mine was draining underground water from Czech villages, making excessive noise and causing other major environmental damage.
In lieu of this, the EU top court had ordered Warsaw to cease mining pending its ruling, and later in September levied a daily fine of roughly  €500,000 for failing to do so.
(Source: Notes from Poland )
The third Jihadi leader to die in a U.S Counter-terrorism Operation
The leader of ISIS Abu Ibrahim al-Hashimi al-Qurayshi was killed on Thursday in a high-profile US counterterrorism operation in northwest Syria. The ISIS leader detonated a bomb as US forces approached his compound, killing himself and his family. President Joe Biden announced the overnight raid by American special operations forces, which U.S. officials called a "significant blow" to the radical militant organization.
Qurayshi was the third jihadi leader to die in a U.S. operation in the past decade. In 2011, under Obama's administration, U.S. Navy SEALs shot al Qaeda leader Osama bin Laden at his compound. In 2019, President Donald Trump sent special forces to raid the home of ISIS leader and founder Abu Bakr al Baghdadi who also blew himself up during the operation in northern Syria. 
This operation is considered to be the highest-profile counterterrorism operation of Biden's tenure.
(Source: Al Jazeera)
Taiwan and Somaliland move toward deeper diplomatic ties 
Taiwan and Somaliland are expanding economic and political ties despite being two of the world's most diplomatically isolated governments. Somaliland Foreign Minister Essa Kayd met with Taiwan President Tsai Ing-wen on Wednesday and said his visit to Taipei signifies mutual determination and resolve to upscale, expand and deepen their friendship and cooperation for the mutual benefits of their  two countries.
Somaliland broke away from Somalia in 1991 and has no formal diplomatic relations with any nation. On the other hand, self-governing democratic Taiwan, which China claims as its own territory, has diplomatic ties with just 14 countries but maintains informal ties with the U.S. and most other major nations. It has formal relations with just one African nation, the kingdom of Eswatini, formerly known as Swaziland.Taiwan opened its embassy in Hargeisa  Somaliland in 2020, with Somaliland opening a representative office in Taipei in the same year.
(Source: The Independent )
Russia begins Joint military drills with Belarus amidst tensions with Ukraine.
Russia has begun 10 days of military exercises with its neighbor Belarus on Thursday as tensions remain high over a large build-up of troops along its border with Ukraine.
Around 30,000 Russian troops are believed to be in Belarus to take part in the exercises, according to NATO, which has said the drills are the biggest Russian deployment there since the Cold War.
These drills known as Allied Resolve 2022 – are taking place close to the Belarusian border with Ukraine, Russia has said that they are primarily aimed at practicing ways to repel "external aggression". However, this is widely seen as a show of strength by Russia. The exercises come at a time when 100,000 Russian troops remain located at various points along Russia's border with Ukraine.
(Source: BBC News) 
Queen Elizabeth II Redefines the future of the monarchy 
During Queen Elizabeth II's public Platinum Jubilee message, Her Majesty redefined the future of the monarchy as she marked her 70th anniversary of her reign. She voiced her support for Camilla, Prince Charles's wife who is currently the Duchess of Cornwall. The Queen confirmed that Camilla will be known as Queen Camilla when Charles becomes King "Queen Consort".
Prince Charles paid tribute to his mother on her special day, congratulating her as she marks her 70th year on the throne and expressing gratitude for the significant step to redefining royal titles. When Charles married Camilla in 2005, the couple announced she intended to be known as "Princess Consort" despite having a right to the title of Queen. It was seen as a recognition of the sensitivities around a title that was destined for Charles' first wife, the late Princess Diana.
(Source: CNN )