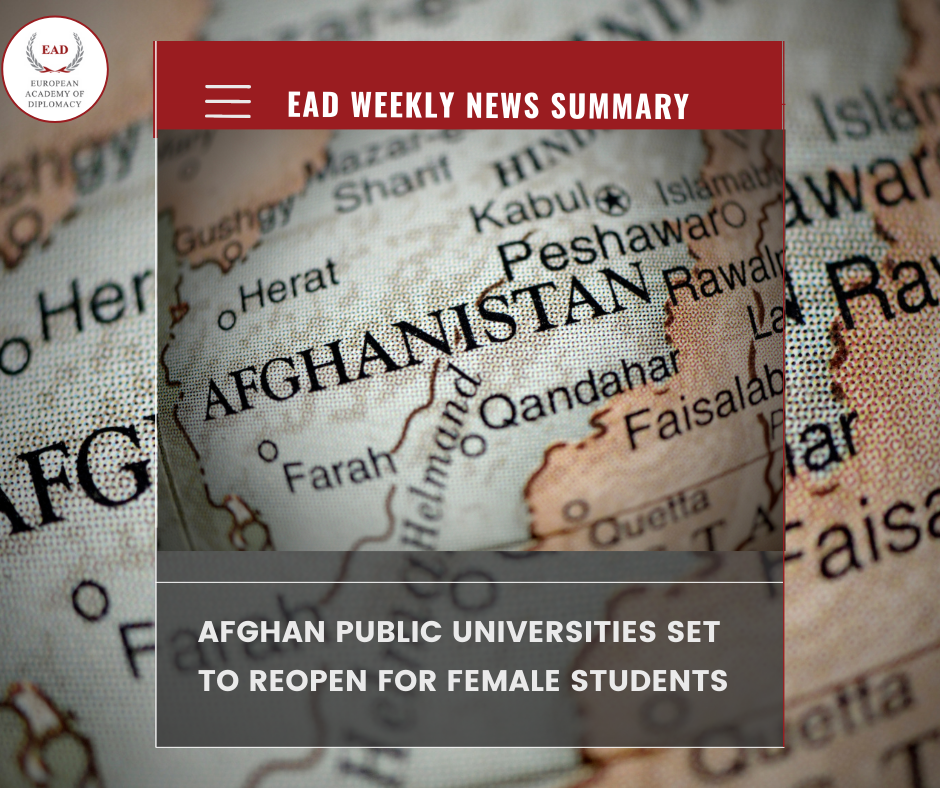 EAD Weekly News Summary – 31.01 – 4.02.2022
Afghan Universities reopen for female students 
More than five months after the Islamist group retook control of Afghanistan, the Taliban on Sunday announced that they will start reopening Public Universities to female Students.
The
minister for higher education
Abdul Baqi Haqqani announced that gender segregation would be enforced in public universities in line with Sharia or Islamic law before reopening them. He also insisted that hijabs would be mandatory for female students.
This announcement comes days after the Taliban held meetings with the western powers and human rights groups in Oslo, Norway urging them to respect the human rights of all Afghans, especially those of women, and allow all girls to receive an education.
(Source: CNN)
UKRAINIAN CIVILIANS JOIN IN ON TRAININGS FOR WAR AMIDST FEAR OF POSSIBLE WAR
As tensions and fear rise,
 Ukrainians prepare for a possible Russian invasion with citizens volunteering for territorial defense battalions. In the capital, Kyiv, people turn out every weekend for military training and drills.
In addition to that, city schools are practicing bomb scare and air raid drills, this preparation does not leave out social media where official guides to preparing an emergency "grab bag" for evacuation are regularly posted and people have ultimately started plotting their escape route which mostly involves driving west as fast as they can.
(Source: BBC news)
KIM JONG UN'S BOLD MISSILE TESTS IN 2022
Since the beginning of 2022 , North Korea has increased its missile tests in defiance of international law at an alarming rate. According to nuclear weapon analysts, seven North Korean missile tests in the first four weeks of 2022 could be a possible suggestion that the country's leader, Kim Jong Un, is both striving to meet domestic goals
to make North Korea a power that can stand up to not only to its southern neighbor but also to threats internationally, such as the United States
and show that in an increasingly pragmatic world that Pyongyang remains a key actor in the struggle for power and influence.
With Kim Jong UN threatening to destabilize Asia while global resources are stretched thin towards the Russia-Ukraine crisis,  North Korea is demanding the world to pay attention to it.
(Source: CNN)
THE EUROPEAN UNION LABELS GAS AND NUCLEAR ENERGY AS SUSTAINABLE
The European Union plans to label gas and nuclear power plants as sustainable under rules proposed by the European Commission on Wednesday, this plan has split countries and investors, and which some lawmakers will attempt to block after massive backlash. In rules published on Wednesday, gas power plants would be labeled green  if they emit less than 270g of CO2 equivalent per kWh, or have yearly emissions below 550kg CO2e per kW over 20 year
 Anti-nuclear EU countries, led by Germany, have contested the labeling of nuclear as sustainable due the high costs of construction and hazardous waste, which violate the "do not harm" principle. However, a pro-nuclear coalition, led by France, has defended the energy source as affordable, stable and independent, as well as comparably low-carbon. 
(Source: BBC NEWS)
FACEBOOK'S STOCK FLUNK BRINGING TREMENDOUS LOSES TO META
Shares of Meta Platforms, formerly known as Facebook, flunked by 26.4% Thursday as investors reacted to its slower growth in the first quarter of 2022,  and the emergence of TikTok as a fast-growing rival.
With the stock drop, Meta's market cap lost about $237 billion in value overnight  the biggest one-day drop in U.S. stock market history, after Apple's $180 billion drop  in market cap in September 2020, For  the CEO Mark Zuckerberg, the drop has wiped out nearly $30 billion in value of his holdings
One of the other issues according to Zuckerberg is its competitor TikTok which brings increased competition for people's time and a shift of engagement within apps.
(Source: USA TODAY)