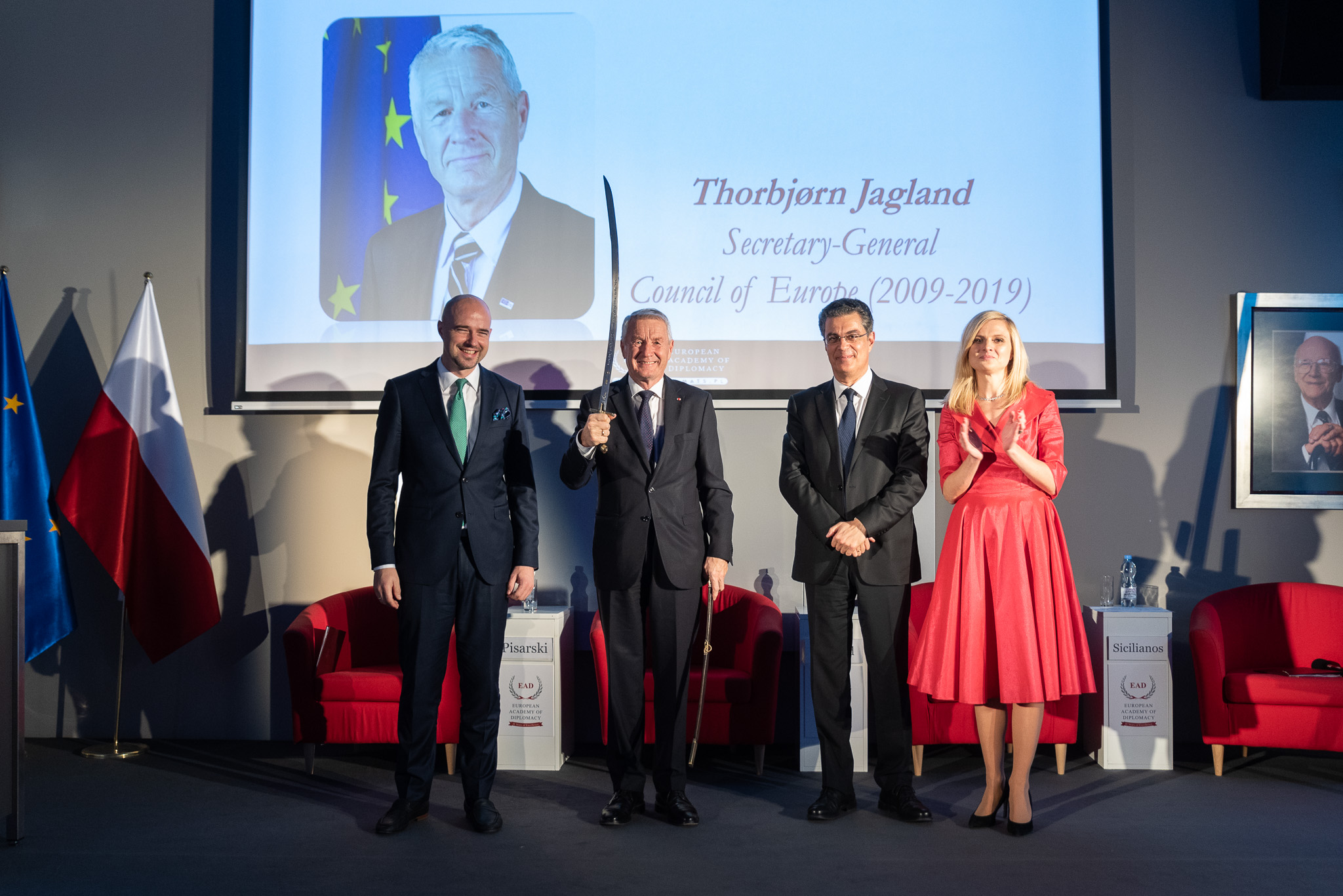 The Knight of Freedom Award Presentation
On 7 December 2019, the annual Knight of Freedom Award was presented to Mr. Thorbjørn Jagland, the Secretary General of the Council of Europe (2009 to 2019). The ceremony took place during  the European Academy of Diplomacy Commencement Ceremony and gathered over 250 students from 40+ countries as well as many international guests, including a delegation from the Council of Europe.
During the ceremony, the accomplishment of Mr. Jagland have been presented by Mr. Zbigniew Pisarski, the President of the Casimir Pulaski Foundation, followed by a laudation delivered by President of the European Court of Human Rights Mr. Linos-Alexandre Sicilianos. Mr. Jagland received the Knight of Freedom "for his continuous commitment to the European integration project, active engagement in fostering international dialogue and a tireless effort to promote democracy, the rule of law and human rights in Europe and beyond".
The ceremony was concluded with a panel discussion on "The state of human rights & democracy in Europe. A reflection for the XXI century." The panelists were the two honoured guests: Mr. Thorbjørn Jagland and Mr. Linos-Alexandre Sicilianos. The discussion was moderated by Prof. Katarzyna Pisarska, Director of the European Academy of Diplomacy .
The Knight of Freedom is an annual award given by the Casimir Pulaski Foundation to outstanding international figures promoting the values for which "the father of American cavalierly" General Pulaski fought: freedom, justice, and democracy. The prize is given out in the form of a handmade replica of General Pulaski's sabre.
Thorbjørn Jagland, Secretary-General of the Council of Europe (2009-2019)
Before joining the Council of Europe Thorbjørn Jagland has held two of the most influential governmental positions in Norway: Prime Minister (1996-97) and Minister of Foreign Affairs (2000-2001). He was a member of the Storting for over 15 years, presiding over the works of the Norwegian Parliament between 2005- 2009. Today, Jagland is a member of the Norwegian Nobel Committee – awarding the annual Nobel Peace Prize – as well as the Chairman of the Board of Directors at the Oslo Centre for Peace and Human Rights, and a Member of the International Board of Governors at the Peres Center for Peace.