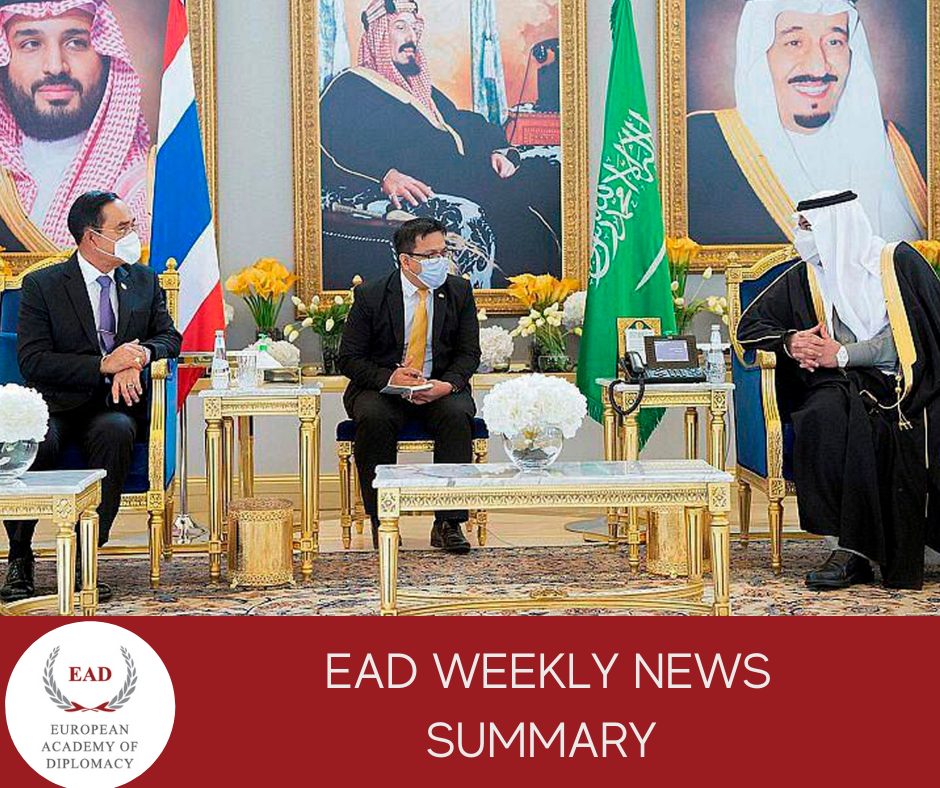 EAD Weekly News Summary – 24 – 30.01.2022
Things are getting personal between the U.S and Russia 
Biden and Putin's Ukraine crisis gets personal as the U.S. tries to deter Russian invasion.
The USA has sent a clear message that Russia, its key economic sectors as well as its leader Vladimir Putin, could face the most severe sanctions it has ever seen if it invades Ukraine.
The U.K. has also signaled it could do the same with the country's Foreign Secretary, Liz Truss, saying that they are not ruling out anything when asked if Putin could be sanctioned.
Threats of personal sanctions against Putin would be a big step up from previous measures against the Russian state and could see the West target Putin's wealth and inhibit his travel, although no further details have been revealed.
The Kremlin responded to those comments on Wednesday, saying any personal sanctions on Putin would be politically destructive, but not painful.
(Source: BBC News)
---
Saudi Arabia restores the ties with Thailand, frozen since 1989
Saudi Arabia and Thailand have announced the resumption of diplomatic ties following more than 30 years of frozen relations linked to the theft of jewels from a Saudi palace.
In 1989, Thailand-born janitor Kriangkrai Techamong stole $20m worth of precious gems from the home of a Saudi prince, triggering a spate of murders in Bangkok and a feud between the countries dubbed the Blue Diamond Affair.
On Tuesday, the two countries announced in a joint statement "the full re-establishment of diplomatic relations" during a visit by Thailand's Prime Minister Prayut Chan-ocha to Riyadh.
(Source: ALJAZEERA)
---
Winter Olympics' boycotts?

 
The Winter Olympics are set to take place in Beijing, China from February 4 to February 20 with around 3,000 athletes competing in 109 different events.
However, the US, the UK and Canada have declared a diplomatic boycott of the Games, along with Australia, Lithuania and Kosovo. Although they will all send athletes to compete, no ministers or officials will attend.
The US said this was because of China's "human rights abuses and atrocities in Xinjiang" against the province's Muslim population. British MP, Iain Duncan Smith, who represents the Inter-Parliamentary Alliance on China, said that the Chinese government commits industrial-scale human rights abuses in the Uyghur region, Tibet and sends near-daily military incursions into Taiwan's airspace.
The country has  consistently denied violating human rights in Xinjiang, and has warned its most vocal accusers – such as the US and Germany – not to interfere in its "internal affairs" in Hong Kong.
(Source: CNN)
---
The Taliban open for humanitarian talks with the West
A Taliban delegation led by acting Foreign Minister, Amir Khan Muttaqi, on Sunday started three days of talks in Oslo with Western officials and Afghan civil society representatives amid a deteriorating humanitarian situation in Afghanistan.
The closed-door discussions included representatives of the United States, France, Great Britain, Germany, Italy, the European Union and Norway. Other groups included the Afghan civil society members, including women activists and journalists, for talks on human rights.
The Western officials and human rights groups aim to push the delegation to promise to uphold human rights in return for access to billions of dollars in frozen humanitarian aid.
(Source : ALJAZEERA)
---
The plunge of cryptocurrency
Over $1.4 trillion has been lost from the cluster crypto market's value since November's highs turned into huge losses. In the last week alone, Bitcoin's value dropped 20% to a current price of $33,55 which is approximately where it was last year, while Ethereum's token fell 30% to $2,270. (Dogecoin, for those keeping track, is down 27% from a week ago.)
The recent intensification of the crash appears to be partly the result of the Russian Central Bank's last week calling for a ban on the use and "mining" of cryptocurrencies in the country. This was a big deal, as Russia is a major hub for crypto mining, particularly since China's ban on the activity. This also comes as a result of the Federal Reserve intending to withdraw stimulus from the market, which makes riskier assets like Bitcoin suffer.
(Source: THE ECONOMIC TIMES)