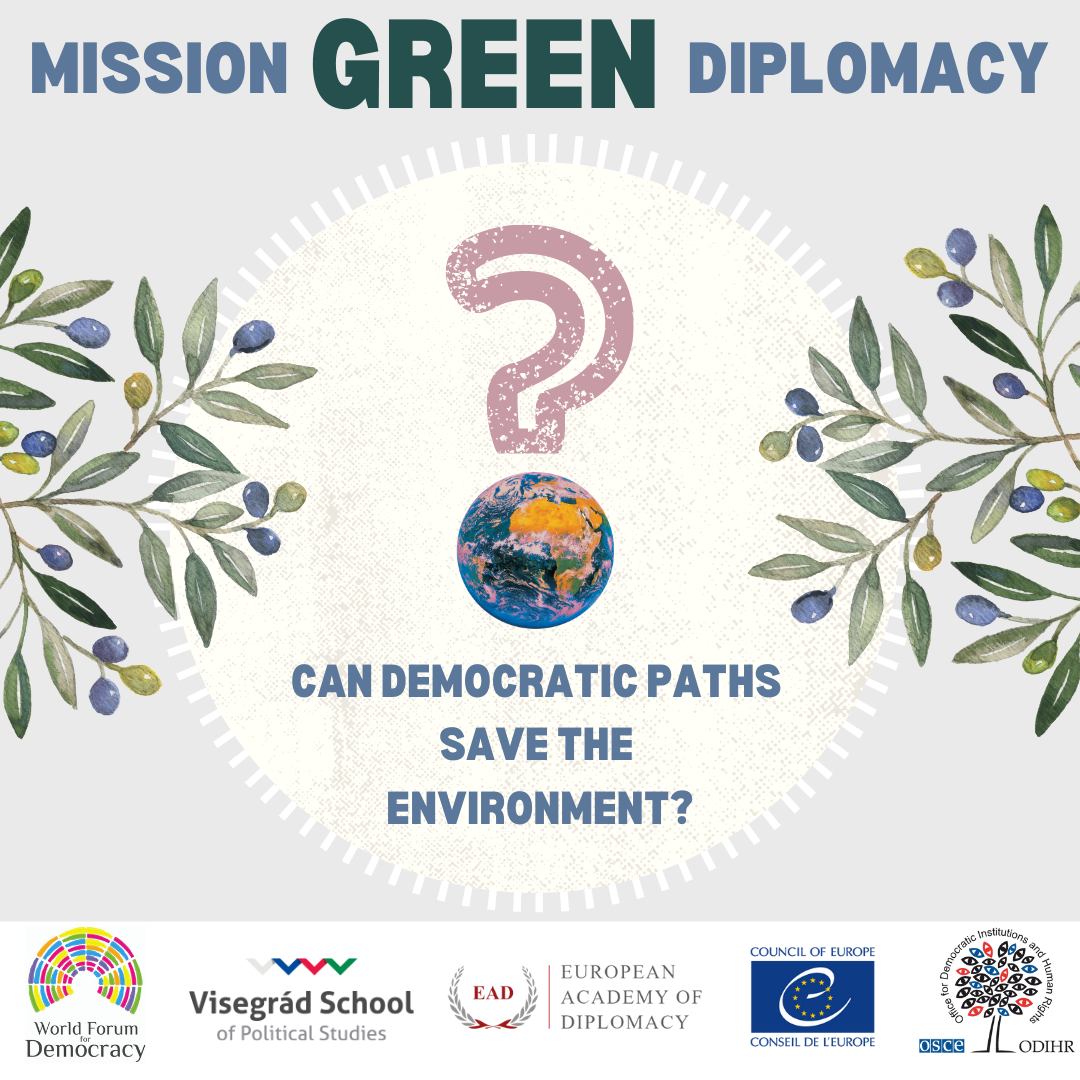 Mission Green Diplomacy. Democratic Paths to Saving the Environment
The European Academy of Diplomacy (EAD) is proud to announce, together with the Visegrad School of Political Studies (VSPS), in cooperation with the Council of Europe, OSCE Office for Democratic Institutions and Human Rights (OSCE/ODIHR) and the Road to Warsaw Security Forum (Road2WSF), Konrad Adenauer Stiftung (KAS),  "Mission Green Diplomacy. Democratic Paths to Saving the Environment". The program takes place in the framework of the 2020 World Forum of Democracy side-events. Mission Green Diplomacy is a project addressed to the future generation of European security and foreign policy leaders, as well as civic activists interested in the intersection between diplomacy, environment and democracy. The mentioned project has an implementation timeline starting on November 18th, until December 15th, 2020.
The first part of the project was in the context of the "Road to Warsaw Security Forum" (17-18 November 2020). Highly qualified professionals took part in the panel namely Frans Timmermans (Executive Vice President for the European Green Deal, European Commission and European Commissioner for Climate Action), Gen (R) Tom Middendorp (Chair, International Military Council on Climate and Security (IMCCS), Chief of Defence, Armed Forces of the Netherlands (2012-2017)), Margot Wallstrom (Deputy Prime Minister & Minister for Foreign Affairs (2014-2019) of Sweden) and Caitlin Werrell (Co-Founder of the Center for Climate and Security and the Council on Strategic Risks, Research Director of the Council on Strategic Risks (CSR)); moderated by Jamie Shea (Professor of Strategy and Security, University of Exeter, UK; Deputy Assistant Secretary General for Emerging Security Challenges, NATO (2010-2018)).
The second part of the project is going to take place on 11-12 December 2020, as a workshop session for civic activists and foreign policy leaders. Among the first rank professionals in charge of the different sections of the project we are going to be having Mary Robinson (President of Ireland 1990 – 1997, UN High Commissioner for Human Rights 1997 – 2000, President of the Mary Robinson Foundation – Climate Justice) with Prof. Katarzyna Pisarska (Director of the Visegrad School of Political Studies) and a panel discussion moderated by Rasmus Gjedssø Bertelsen.
The topics will be presented by the experts such as, among others, Stephany B. Mazon (Science Officer at Future Earth Finland), Chris Littlecott (Associate Director at E3G, Member of the advisory council – the European Technology Platform) Andrei Polejack (General Coordinator for Oceans, Antarctica and Geosciences – The Brazilian Ministry of Science, Technology and Science MCTIC) and OSCE/ODIHR representatives – Annika Ojala and Anneka Sutcliffe.