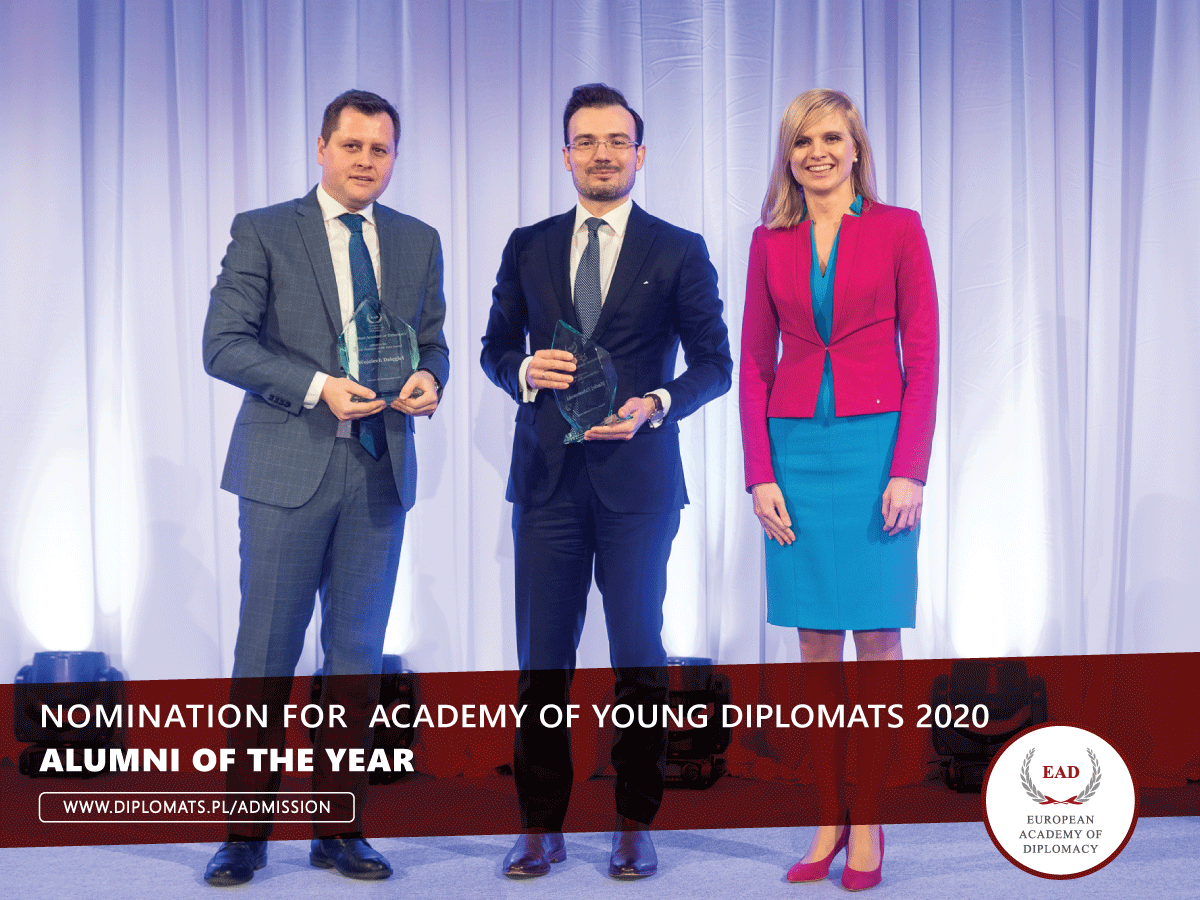 Nominations for the AYD 2020 Alumni of the Year Award
The European Academy of Diplomacy is proud to announce the opening of the nomination process for the Academy of Young Diplomats 2020 – Alumni of the Year Award.
The aim of the Alumni of the Year Award is to highlight the significant accomplishments of our student body, who span more than 102 countries around the world. While we pride ourselves in choosing some of the most promising young leaders and contributing to their development, it is our Alumni who continue to achieve and embody the values of the European Academy of Diplomacy – Respect & Dialogue, Co-ownership, Empowerment and Ethical Engagement. 
The ideal Alumni of the Year will have:
Significant academic excellence,

Remarkable professional achievements,

Proven track record of community leadership, service and volunteer work.
The award will be presented during the Inauguration of the Academy of Young Diplomats Autumn 2020.
To nominate yourself or another alumni, please complete the online application from by 30th October, 2020 with the following information: 
Full name and contact details of the nominee. 

EAD Program and Year. 

Basis of Nomination (why should this Alumni receive the award). 
Finalists will be chosen by the EAD Board of Directors and may be asked for a short interview at the EAD offices or by Skype. The final selection will be announced at the end of November.
If you have any questions, please do not hesitate to contact Ms. Yarolsava Kotvytska (ykotvytska@diplomats.pl)
Previous Alumni of the year:
Wanda Buk (Alumna of the 9th edition of the Academy of Young Diplomats) – Ranked by Gazeta Prawna among the 50 most influential lawyers in Poland in 2018.

Undersecretary of at the Ministry of Digital Affairs of the Republic of Poland since July 2018, and the director of the Digital Poland Project Centre.

Aron Thyr (Alumnus of the 13th edition of the Academy of Young Diplomats) – Management consultant within public administration in Stockholm, Sweden

and member of the global organisation "Young Professionals in Foreign Policy".