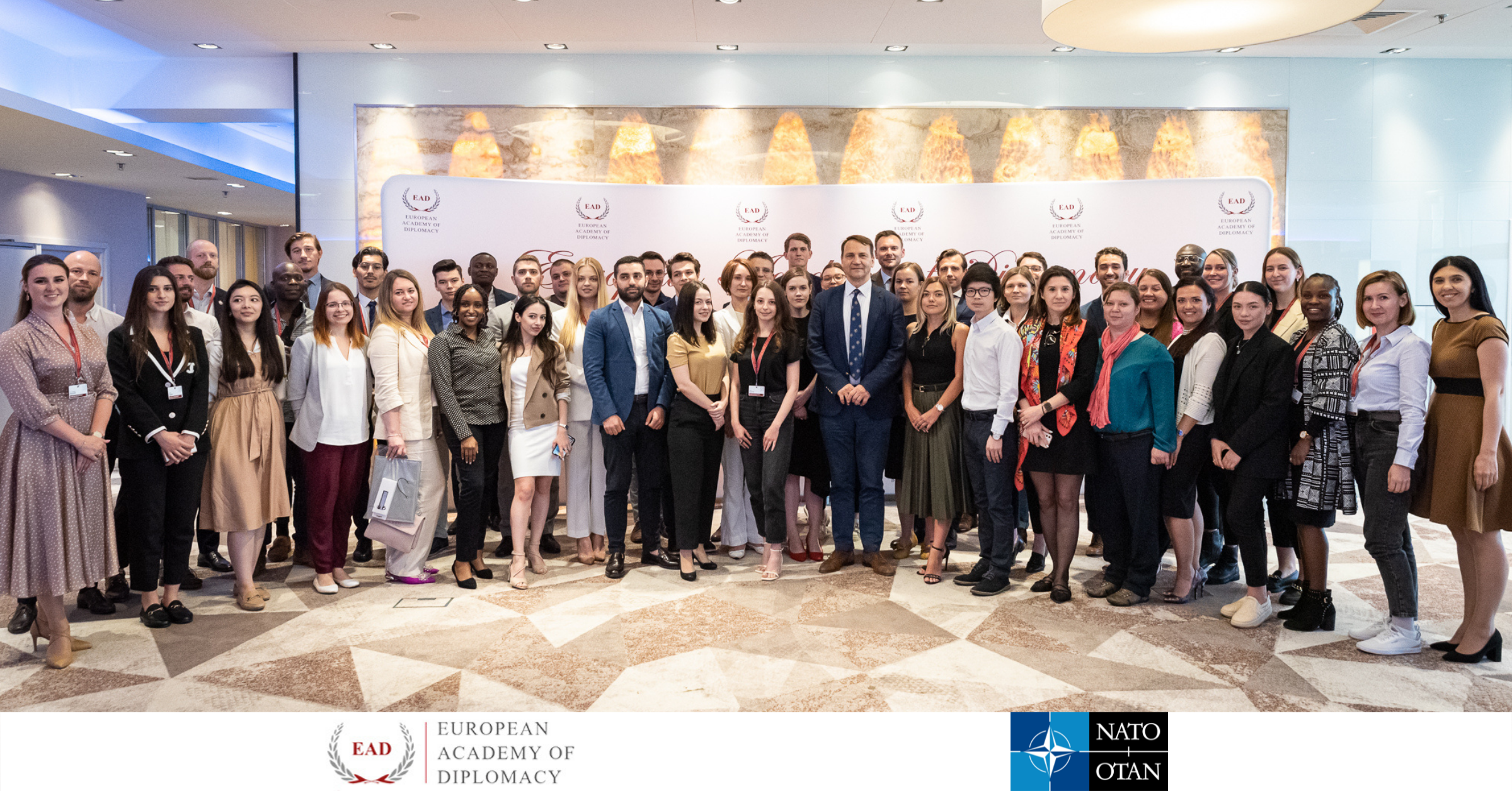 Final Session of the 2021/2022 Edition of the Academy of Young Diplomats
We are proud to announce that over the past weekend, the VIII Session of the 2021/2022 Edition of the Academy of Young Diplomats (AYD) took place. For the final session of the program, participants gathered in Warsaw where they participated in talks with high-profile speakers and workshops with experts in the field of diplomacy. The organization of the Session was possible thanks to the support and cooperation from NATO.
The first day of the session began with study visits to the Embassies of Austria, Malaysia, and Palestine where the participants of the program could exchange with Ambassadors and Consuls. These fruitful discussions provided participants with more insight into the life of diplomats. In the afternoon, the Global Talk with Minister Radosław Sikorski on The Future of European Security Architecture gave participants the chance to learn more about the current and future challenges and opportunities of European defense and security. 
The second day of the June Session focussed on Diplomatic Skills Workshops. These workshops were led by experienced professionals in the field and added up to the learning experience of the previous sessions. The classes on this day included "Leadership Styles for Emotionally Intelligent Leaders" by Andrew Buchanan, "Savoir Vivre" by Ambassador Ryszard Schnepf, and "Intercultural Communication" by Marta Brzezińska-Hubert, and "Persuasion" by Joshua Burgin. In the evening, participants, trainers of the program, and representatives from Embassies gathered together for the Farewell Cocktail at the Tapas Gastrobar. 
During the third day of the VIII session of the Academy of Young Diplomats 2021/2022 edition, participants attended Specialization Classes focused on contemporary topics in the world of diplomacy which were presented in the form of workshops by experienced diplomats and military experts. The workshops on the third day of the session included "NATO: international conflicts and prospects of peace" by Marcin Bużański, and "Global Cybersecurity: should we be concerned about China?" by Lt. Col. Mariusz Rukat, and Transatlantic Relations in the changing security environment by Dr. Andrew Michta. 
The final session of the 2021/2022 Edition of the Academy of Young Diplomats was a great success and we would like to thank everybody involved for making this possible! 
#FutureLeaders #AYD