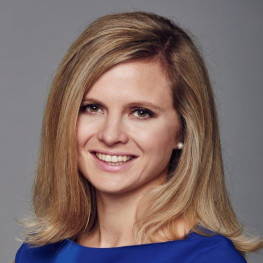 Katarzyna Pisarska
director of the european academy of diplomacy
Prof. Katarzyna Pisarska is the Founder and Director of the European Academy of Diplomacy in Warsaw, Poland and the Visegrad School of Political Studies run in cooperation with the Council of Europe. She is also the Program Director of the Warsaw Security Forum and a Young Global Leader at the World Economic Forum in Davos. In 2013 Prof. Pisarska was named "99 under 33" most influential world foreign policy leader by the Diplomatic Courier in Washington D.C.
In addition to her leadership experience in the NGO sector, Prof. Pisarska pursues a career in academia. She is an Associate Professor at the Warsaw School of Economics, CPD Faculty Fellow at the University of Southern California in Los Angeles and a Visiting Professor at the Azerbaijan Diplomatic Academy in Baku. Previously, Prof. Pisarska was a Fulbright Visiting Fellow at Harvard University (2007), a Visiting Scholar at Johns Hopkins University's School of Advanced International Studies (2010), at the Australian National University (2015) and at the University of Southern California (2019). She specializes in EU foreign policy, Eastern Partnership, EU-Russia relations, and public diplomacy, having authored the monograph "The Domestic Dimension of Public Diplomacy – Evaluating Success through Civil Engagement" (Palgrave 2016).
Prof. Pisarska has served as an adviser to the Foreign Affairs Committee of the Polish Parliament, to the Office of National Security at the Chancellery of the President of the Republic of Poland; and continues to work as regular foreign affairs broadcaster in Polish and international media.
Other Events