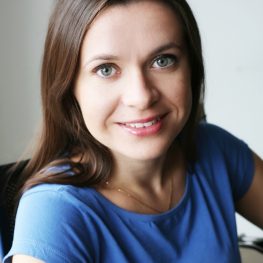 Zuzanna Mazurek
Communications Specialist, Consultant, Coach & Trainer
Communications specialist, certified story coach™ and business trainer. President and former Spokesperson for International Coach Federation in Poland. Member of Women Speakers Association™. Certified consultant of DISC D3™, multidimensional assessment tool (behaviour, communication, team roles, values and inner motivations). She has both corporate and agency background. For over a decade she worked in public relations, […]
Communications specialist, certified story coach™ and business trainer. President and former Spokesperson for International Coach Federation in Poland. Member of Women Speakers Association™. Certified consultant of DISC D3™, multidimensional assessment tool (behaviour, communication, team roles, values and inner motivations).
She has both corporate and agency background. For over a decade she worked in public relations, where her job involved designing communication strategy, government affairs, community relations, CSR and sponsoring. She provided support to management board members, civil servants and diplomats in public appearances – writing speeches, talking points and working on their delivery.
Zuzanna has an extensive experience in managing and coordinating both country-wide, as well as international projects. Among them: Bill Gates visit to Poland, launching one of the biggest Gillette plants worldwide, Citi 200 anniversary, building and unveiling the Kosciuszko monument in Warsaw (with President of the Republic of Poland, U.S. Ambassador and many other notable officials).
Now, she supports representatives of both business and public sector in building their personal brand, speaking in public and developing communication style aimed to build engagement and support. As a trainer and mentor she also shares her experience on leadership and management. She trains other trainers and coaches, as well as helps introduce coaching style in leading others.
Other Courses